IN PASSING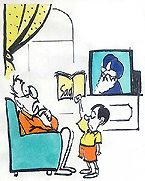 What? SAD means happy!Are you talking about Punjab?

Panel exposes lapses
Women's deaths at tubectomy camp
Sangrur, February 23
Though the inquiry reports prepared by two independent agencies — the PCMSA and the Association for Democratic Rights Punjab, have held Dr S.S. Joshi, SMO, Moonak, who performed the operations, responsible for the Khanauri tubectomy tragedy but the three-member committee formed by the Sangrur Civil Surgeon has adopted a vague method in its inquiry report conclusion for not indicting any particular person for the lapses.
6-day week likely in 3 universities
Kurukshetra, February 23
The Haryana Government is likely to introduce six-day week in three universities of the state soon. A decision to this effect is reported to have been taken at a meeting of vice-chancellors of the three universities, which was held on February 19.
Pilot killed in MiG crash
Tezpur (Assam), February 23
An Indian Air Force MiG-21 today crashed into a house, killing the pilot, Squadron Leader Y. M. Ram, and injuring a minor girl at a remote village in Assam's Sonitpur district, a senior IAF official said here.
Earn-while-you-learn scheme
Chandigarh, February 23
Haryana is on the threshold of becoming the first state in the country to introduce the earn-while-you-learn pattern of employment for its college students. Tailored on the Western system, the scheme will allow students to work for a maximum of six hours a week in their respective colleges against vacant positions in pre-identified areas.
In Sports Tribune today
PM warns Lashkar
February 23, 2001
J&K truce extended
February 22, 2001
India lodges protest
February 21, 2001
Pak stalling peace process: President
February 20, 2001
GOC regrets firing, orders probe
February 19, 2001
Ceasefire likely to be extended
February 18, 2001
Fresh protests rock valley
February 17, 2001
4 killed in firing
February 16, 2001
Punjab draws up VRS
February 15, 2001
Harbans Singh joins Farooq Cabinet
February 14, 2001
Order on Ayodhya case quashed
February 13, 2001
Negotiations only solution: George
February 12, 2001