IN PASSING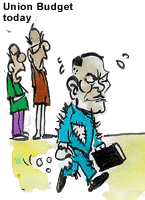 Poor Finance Minister! Let's help him.
SC fines Punjab Chief Secy
New Delhi, February 27
In a rare instance, the Supreme Court today made the Punjab Chief Secretary, Mr N.K. Arora, who as Principal Secretary to the Local Government Department had deprived a president of a municipality from assuming charge, to pay Rs 25,000 to the elected representative.
Govt-ashram showdown imminent
Removal of encroachments
Faridabad, February 27
A showdown appears imminent between the Siddhata Ashram temple complex here and the state government on the issue of the removal of encroachments from the ashram on January 8.
Oppn insulting Gujarat: PM
New Delhi, February 27
Prime Minister Atal Behari Vajpayee today blasted the Opposition in Lok Sabha charging it with "insulting Gujarat by politicising" the situation arising out of the earthquake there and warned "we will put you in the dock."


High Priests violate maryada
Meeting held without Giani Puran Singh
Amritsar, February 27
Even as Giani Puran Singh, Head Granthi of the Golden Temple categorically refused to attend the meeting, the five High Priests today held a meeting at Akal Takht in gross violation of the maryada.
Passengers spared, freight hiked
by 3 per cent
February 27, 2001
Quake jolts Central Asia
February 26, 2001
Return Ayodhya land, VHP tells PM
February 25, 2001
Economic outlook gloomy
February 24, 2001
PM warns Lashkar
February 23, 2001
J&K truce extended
February 22, 2001
India lodges protest
February 21, 2001
Pak stalling peace process: President
February 20, 2001
GOC regrets firing, orders probe
February 19, 2001
Ceasefire likely to be extended
February 18, 2001