IN PASSING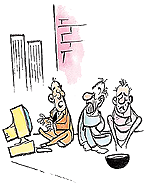 How do you know that I deal in stocks?
by Sandeep Joshi
Koran burning: PM orders probe
New Delhi, March 13
Mr Atal Behari Vajpayee has ordered a probe into the alleged burning of a copy of the holy Koran here last week, official sources said. This was conveyed to the top leaders of Muslim religious and political organisations when they met the Prime Minister here today demanding stringent action against those indulging in the act.
Jessica case: murder charge upheld
New Delhi, March 13
The Delhi High Court today upheld a trial court's murder charge against Sidharth Vashisht, alias Manu Sharma, the prime accused in the Jessica Lal murder case, but declined permission to the CBI to frame additional charges.
6 killed in accidental bombing
Dubai, March 13
Five American military personnel and a New Zealander were killed and seven others wounded when a US navy jet accidentally dropped a bomb during a training exercise at a bombing range in northern Kuwait last evening.


Marks scandal detected in PTU
4 becomes 26, clerk caught
Jalandhar, March 13
If you are a parent of a dull student, all you have to do is to contact the right person in Punjab Technical University with a bagful of money and most likely your child will figure among those who have passed their examination with flying colours. This has been happening in the university for years thanks to a racket being run by university officials.
Motion of thanks defeated in RS
March 13, 2001
Annan's no to UN resolution on Kashmir
March 12, 2001
Rush, gusto missing at Hola Mohalla
March 10, 2001
TMC, Cong set to team up with AIADMK
March 9, 2001
Govt favours talks with various
J&K groups
March 8, 2001
PM warns of water shortage
March 7, 2001
Another attack on Army camp
March 6, 2001
Resolve inter-state rows, PM tells CMs
March 5, 2001
PM for hike in farm sector
power tariff
March 4, 2001
Over 20 cops shot in Rajouri
March 3, 2001