IN PASSING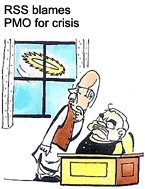 Oh, God ! save us from this "Sudarshan chakra" !!

by Sandeep Joshi
Budget "anti-poor, anti-farmer"
Chandigarh, March 19
While the main Opposition, the Congress, said that the Budget presented in the Punjab Vidhan Sabha today by the Finance Minister, Capt Kanwaljit Singh, was "anti-poor, anti-farmer and anti-urbanites," the rebel Akali MLAs said that it was "hollow and directionless."
Siwan DM, SP transferred
RJD MP has his way; police revolt feared
Patna, March 19
The Rabri government on Sunday decided to save its political life at the cost of the administrative well being of the state. It handed over marching orders to the Siwan SP, DM, DSP and DIG, Saran Range in a late night administrative reshuffle.
Offer to excommunicated Sikhs
Swear by Sikhism & rejoin Panth, says Vedanti
Amritsar, March 19
Many 'excommunicated' persons may rejoin the Sikh fold soon as Akal Takht has given an assurance that their cases would be considered sympathetically if they gave in writing that they have full faith in Sikhism, the 10 Gurus and Guru Granth Sahib.
Sonia's battle cry against NDA govt
March 19, 2001
Cong ready for coalition
March 18, 2001
PM orders judicial probe into expose
March 17, 2001
Resignations of George, Mamata, Panja accepted
March 16, 2001
Govt ready for probe: Vajpayee
March 15, 2001
Website exposes govt's shady defence deals
March 14, 2001
Motion of thanks defeated in RS
March 13, 2001
Annan's no to UN resolution on Kashmir
March 12, 2001
Rush, gusto missing at Hola Mohalla
March 10, 2001
TMC, Cong set to team up with AIADMK
March 9, 2001