IN PASSING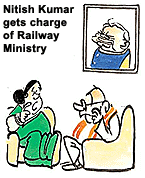 You want some better portfolio? Wait for another crisis!

by Sandeep Joshi
India beat Pak by strokes (Sports)

Indian players celebrate after beating Pakistan 3-2 in the final of the Bangladesh Prime Minister's Gold Cup International Hockey Tournament in Dhaka on Tuesday. — Reuters photo
Bihar cops give ultimatum
Patna, March 20
Law of the land and constitutional norms are the first casualty as the demoralised police force attempts to come to terms with the reality in the aftermath of the transfer of Siwan SP, DM and DSP.
Youth dies, cops booked
Yamunanagar, March 20
Following the death of a youth in CIA staff custody today, main roads of the city were choked for hours by an angry mob.


Recycled syringes 'caused' hepatitis
Bathinda, March 20
The district health authorities today claimed that hepatitis-B spread in Chaoke village recently was due to use of already used disposable syringes by medical practitioners. A survey conducted by the health authorities, found 93 cases of suspected hepatitis-B and 14 of them were confirmed to be hepatitis-B positive.
Cong announces nationwide stir
March 20, 2001
Sonia's battle cry against NDA govt
March 19, 2001
Cong ready for coalition
March 18, 2001
PM orders judicial probe into expose
March 17, 2001
Resignations of George, Mamata, Panja accepted
March 16, 2001
Govt ready for probe: Vajpayee
March 15, 2001
Website exposes govt's shady defence deals
March 14, 2001
Motion of thanks defeated in RS
March 13, 2001
Annan's no to UN resolution on Kashmir
March 12, 2001
Rush, gusto missing at Hola Mohalla
March 10, 2001