IN PASSING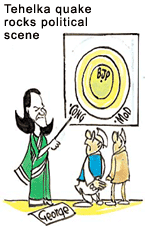 As you can see, we are quite close to the epicentre...

by Sandeep Joshi
MP's aide among 7 held in Patna
Confesses to involvement in murder cases
Patna, March 22
In a major swoop, the police has arrested seven persons, including Sultan Mian, known to be a close associate of controversial Siwan MP Shahabuddin, and Zaved Siddiqui, son of a retired DIG of Police, the police said.
Balbir Singh Budha Dal chief: Vedanti
Anandpur Sahib, March 22
The Jathedar of Akal Takht, Giani Joginder Singh Vedanti, today clarified the confusion over the real head of the Budha Dal.
Rebels to wait until March 25
Shimla, March 22
The choice of the next national president of the BJP is likely to play a crucial role in resolving the three-week political crisis plaguing the Dhumal ministry.




Yogi to be awarded degree abroad
Senate proposes, Governor disposes
Amritsar, March 22
The proposal of the Syndicate and Senate of Guru Nanak Dev University to confer the degree of Doctor of Philosophy (honoris causa) on religious leader Yogi Harbhajan Singh Khalsa in the USA appears to have been disposed off as "untenable" by the Chancellor of the University, Lieut-Gen JFR Jacob (retd), the Governor of punjab-cum-administrator of Chandigarh.
Pak troops strengthen positions along LoC
March 22, 2001
Parliament passes vote-on-account
March 21, 2001
Cong announces nationwide stir
March 20, 2001
Sonia's battle cry against NDA govt
March 19, 2001
Cong ready for coalition
March 18, 2001
PM orders judicial probe into expose
March 17, 2001
Resignations of George, Mamata, Panja accepted
March 16, 2001
Govt ready for probe: Vajpayee
March 15, 2001
Website exposes govt's shady defence deals
March 14, 2001
Motion of thanks defeated in RS
March 13, 2001