And they say women talk more!
Gaurav Sood
DURING my postgraduation, I frequently travelled between Chandigarh and Patiala. As soon as I found a comfortable seat, I would doze off. The only things that occasionally disturbed were rattling windowpanes and chattering co-passengers. Though their talk was often disturbing yet, at times, interesting. The men would discuss politics, office and current events whereas women had a lot to talk about— husbands, kids neighbours, office mates, dresses, latest TV serials and almost everything under sun. I often wondered who talked more— was it the men or the women.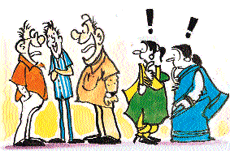 "Nothing is so unnatural as a talkative man or a quiet woman" says a Scottish saying. An American proverb says, "When both husband and wife wear pants it is not difficult to tell them apart—he is the one who is listening". " Women's tongues are like lamb's tail," says an English saying. A Japanese saying reads, " Where there are women and geese there's noise." Most of these sayings and proverbs try to convey that the women are always talking, noisy and irritating prattlers. But do women dominate in talking? Do men really struggle to get a word in, edge-wise?
Researchers, Deborah James and Janice Drakich in their study, Understanding gender differences in amount of talk in their book Gender and Conversation interaction have reviewed 63 studies that examine the amount of talk time used by women and men. In 61 studies, men talked more than women. If we apply these elements in the present day context one can conclude the same too.
These days, various channels host talk shows on the idiot box. If we compare the amount of talk time indulged in by female and male guests invited, the results indicate that men dominate in most of the talk shows. Generally men take more than half on each occasion.
The good thing about Doordarshan is that it has brought Parliament to our homes. We can watch our favourite leaders speak and not speak on our part in the house. A careful study of the proceedings can help us draw a conclusion that out of our elected leaders, male politicians speak more than their female counterparts. No doubt, they are also more in numbers.
There are numerous examples to prove the point. My father, a retired educationist, often recalls that from kindergarten through primary, secondary and higher level education it is boys who dominate the classroom talks.
The question arises that who talks what and why? Researchers conclude that formal public talk is aimed at enhancing one's status as this is meant to inform people and persuade them to agree to a certain viewpoint. People who confirm certain degree of public status often do public talk. A simple test is to use a stopwatch to calculate the amount of talk conducted by men and women at a political or public meeting. Researchers conclude that men talk more than the fair sex in public, as they believe that verbally contributing would enhance their social status and they are more concerned with asserting status and power than women are.
Informal or intimate talk is purposed to establish and maintain social contacts with others, making social connections, developing and reinforcing intimate relationships. Interestingly, various studies which researchers Deborah James and Janie Drakick reviewed concluded that there was a little difference in the amount contributed by men and women, though still men were placed higher on the graph.
The researchers found out that women are willing to talk more in social contexts especially when relaxed. Their talk functioned to develop and improve social relationships.
Another piece of evidence that supported the study was that male talk tends to be more reverential or informative, while female talk is more supportive and facilitative.
The researchers finally concluded that women seemed to use talk to develop personal relationships and maintain family connections more often than to make claims to status or to directly influence others in public contexts.
Studying various research observations we find that in people's contributions to discussion section of seminars, women were more likely to task questions and make comments when the topic was one they could claim expert knowledge about.
Dale Spender in his book Learning to Lose says, "The talkativeness of women has been gauged in comparison not with men but with silence, women have not been judged on the grounds of whether they talk more than men, but of whether they talk more than silence women"
Finally to conclude on "Do women talk more than men?", it can be said that it depends on various reasons and factors such as social context, kind of talk taking place, relative social confidence of the speaker and their familiarity with the topic.
The researchers concluded that men generally talk more in formal, public contexts where informative and persuasive e talk is highly valued and where talk is generally the prerogative of those with some societal status and has the potential for increasing that status. Women, on the other hand generally contribute in private, informal interactions, where talk more often functions to maintain relationships, and in other situations where for various reasons they feel socially confident. "Silence is golden," says the proverb and there are certainly contexts in all cultures where silence is more appropriate than talk. At times the silent participants are considered to be the powerful players. However, this is true, it must be recognised that talk is very highly valued in today's world. It seems that as long as holding the floor is related with influence, the questions whether women talk more or men will continue to be a matter for debate.