IN PASSING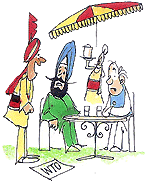 Which country's leg 'piece' would you like, sir...Singapore, Hong Kong, America, China...
by Sandeep Joshi
3 rebels abstain from meeting
Dharamsala, April 2
It was not the absence of Dhumal loyalists at the district BJP meeting here today which was intriguing as much as the staying away of three of the six rebels from Kangra. This has further lent support to reports on fissures among the dissident MLAs .
A TRIBUNE SPECIAL
First Indian woman to brave glacial chill
Chandigarh, April 2
"Anyone who has seen the beauty of Antarctica can only answer with a bold yes to the idea of going back to the wonderland again," says Dr Kanwal Vilku, who has just returned after 16 months on the frozen continent. "I come back a very confident person, tolerant, and above all closer to God," she asserts.



Maharaja Ranjit Singh's bicentenary celebrations mired in controversy
Chandigarh, April 2
The typical case of the Punjab Government's left hand not knowing what the right hand is doing has come to the fore as the state authorities draw up an ambitious year-long programme to celebrate the bicentenary of the "coronation" of Maharaja Ranjit Singh, beginning April 13.
CBI begins scrutiny of scam papers
April 2, 2001
India at last lays quota regime to rest
April 1, 2001
SGPC for Pak corridor to Sikh shrine
March 31, 2001
BJP to evolve code of ethics
March 30, 2001
Anandgarh project notification quashed
March 29, 2001
Chief of Defence Staff on cards
March 28, 2001
Lashkar men storm CRPF camp, kill 4
March 27, 2001
Make party funding transparent: PM
March 26, 2001
BJP President calls Cong fascist
March 25, 2001
Wheat support price hiked by Rs 30
March 24, 2001