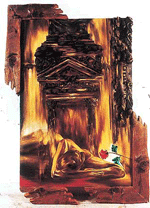 I was surprised at the turnout: more than 200 ladies and gentlemen packed the room next to the bar. I started with a pompous statement: "A home without books is a home in perpetual darkness." I am not sure if I had borrowed the quote or coined it myself. I went onto say that most Indian homes had at least one book — the Bhagavadgita, Ramayana, Bible, Koran or the Guru Granth Sahib. I do not regard religious texts as books in the proper sense as most of them are not read but recited often without understanding what they mean because they are in ancient languages. By books I meant books on science, history, literature, nature, biographics etc which expand our knowledge of the world. Religious texts do not add to our information but constrict it to one subject.
How is one to decide which books to buy? Over a hundred are published in India everyday in different languages. The best guide is a friend or a discerning bookworm. You may read reviews in journals: they are not very reliable. Or scan the best-sellers lists which are even less reliable. Bookshop owners are mostly semi-literate and the least reliable guides. Moreover, they usually want to offload books they have not been able to sell. Librarians are usually better-informed and have no vested interest in recommending books.
Books have become very expensive. People of the salaried class or who live on pensions (they form the vast majority of members of Gymkhana Club) are reluctant to spend Rs 500 to Rs 1000 on books but they don't mind blowing up a couple of thousand rupees on drink and food in one evening. Fortunately they also wish to be well-informed and have begun to borrow books from the library or browse around the bookshelves. It is a healthy sign: besides exercising their bodies, they also want to exercise their minds.
It is the rich of our country with plenty to throw around who have scant respect for books. Go to their marble mansions and look around: chandeliers, cut glass, premium Scotch, vintage wines but not a bookshelf. Or if you see one it is likely to be a cardboard with painting of spines of classics which look like real. At the most, they will have a few magazines lying on the table and perhaps a copy of Reader's Digest. To enjoy a book, a person has to have peace of mind. And that the rich do not have.
The biggest challenge to book-reading is television. People are spending more and more time watching the little screen. They get news and views round the clock. Also useful information on flora and fauna. However, there are things that TV channels can't give: only books can — the joy of reading classics like Shakespeare's plays and sonnets and ecstacy of divine poetry. Even educated people who give up reading books and get hooked on to TV as good as lapse into illiteracy!
Beautiful and talented
Being comely and the daughter of a well-known father is not a guarantee for a great future. On the contrary few beautiful girls achieve anything because acclaim comes too easily to them. They don't have the will to strive for anything. And if their parents are celebrities and rich there is even less motivation to make it on their own. However there are exceptions to rule "if beautiful, remain a mediocrity". One such person I met recently is Laila Khan Rajpal. When she came to see me with a friend I assumed she was a film star. Long dark brown hair framing her lovely face. But no sparkle, no frivolous talk one could expect of a girl on the make in the film industry. In the course of our conversation, I discovered she was the daughter of Feroze Khan, the eldest of the Khans who have dominated Bollywood for some decades, and his Sindhi Hindu wife Sundri. Laila could have walked into Hindi films without any problem. She chose not to do so. She wanted to be a painter. Her parents who noticed her fascination with colours encouraged her to choose her own career. After schooling, she went to Sophia College from where she graduated. At college, she took lessons in painting from Professor Kunthekar and found ready outlets for her work. She wanted to paint nudes to depict female sexuality. But the models were not easy to find in Bombay. So she proceeded to London and joined the Slade School of Arts. She saw how artists like the Austrian Gustav Klint and Salvadore Dali were able to convey sexual messages through the female form. Back home, the artist who impressed her most was Anjali Ela Menon.
Two years ago, Laila married Rohit Rajpal, a handsome national-level Punjabi tennis player. (Hindu-Muslim marriages cause no tensions on either side). Laila shifted to Delhi to become a member of the Rajpal joint family. She needed her own space to paint. So she bought a flat in Mayur Vihar across the Yamuna and converted it into a studio. She spends her days there doing her own thing.
A few days ago, Laila held her first solo exhibition at Habitat Centre. The chief guest was actress Rekha. With her father and Rekha there, there was a large turnout of Delhi's elite gentry. The police had to keep an eye on gate-crashers. Wine and champagne flowed. I managed to extricate myself and go round the exhibits. They are large canvases mostly in artistically broken wooden frames to highlight the theme: ancient ruins in different shades of brown to offset a human face, mostly Meena Kumari's or a bright red rose — presumably to show that buildings were for eternity, while human beings and flowers have their day and then fade out into nothingness. All the paintings were sold out within an hour.
The smiling Buddha
When tanks and rockets and the bullets
Hit me even in stone and granite,
When fuming fury in a state of fit
Turns to use the dynamite,
When frenzy, violence, vengeful wrath
The proud progeny of Satan supreme
And their kinsmen intolerance, hate
Howl and growl and loud scream
With all the self-righteous sounds,
I sit, as I did, under the Bodhi tree
Though distracted for a while
And, as is my wont, for centuries now
I quietly smile.
But oh! the hunger stalks the blighted land
And bitter chill rips the bones apart,
But oh: the children in their thousands die
And under their veils the women cry
And the powers that bred the Talibans
Now hypocritically sigh,
I must confess I am distraught,
Do I still smile?
(Courtesy: Kuldip Salil, Delhi)