THE TRIBUNE MAGAZINES
On Mondays

On Sundays
On Saturdays

Panja raises banner of revolt
Party rules out action against him
Kolkata, April 17
Former Union Minister of State for External Affairs Ajit Kumar Panja today raised a banner of revolt in the Trinamool Congress demanding "restoration of democracy" in the party and said the party chief, Ms Mamata Banerjee, had been "grabbed" by the CPM and the Congress.
Memorial to Devi Lal announced
An era ends with Tau's death: Vajpayee
New Delhi, April 17
Prime Minister Atal Behari Vajpayee today paid tributes to former Deputy Prime Minister Chaudhary Devi Lal and said an era had ended with the death of Tau, who relentlessly worked for the welfare of farmers and the downtrodden.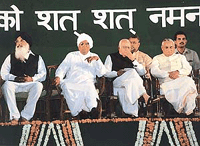 Punjab Chief Minister Parkash Singh Badal, Haryana Chief Minister Om Prakash Chautala, Mr L.K.Advani and Prime Minister Atal Behari Vajpayee at the condolence meeting organised at Indira Gandhi Stadium, New Delhi, to pay homage to former Deputy Prime Minister Devi Lal in the Capital on Tuesday.
— Photo Vijender Tyagi.

In Health Tribune today