IN PASSING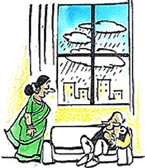 Why donít you demand a JPC probe into the crop-damaging rain?

by Sandeep Joshi
Arms found from Sirhind canal
Ropar, April 19
A huge cache of arms, including two carbines, a Thomson machine gun, a stengun, 12 grenades, 11 magazines and 2,287 cartridges were recovered from the Sirhind canal siphon near Chamkaur Sahib by the Ropar police today.
Babbars dissolve UK wing
Panja Sahib (Pakistan), April 19
The Babbar Khalsa International has dissolved its UK wing following the ban imposed by the British Government on 21 different terrorist organisations, including the International Sikh Youth Federation, with immediate effect.



CMís security beefed up
Chandigarh, April 19
The Punjab police has decided to deploy four of its young IPS officers in the Chief Ministerís security cell replacing the officers on deputation from the Central Reserve Police Force. The change, sources said, had been necessitated because of a perceptible change in the security environment in the state. With the Assembly elections round the corner, there was need for stepping up the personal security of the Chief Minister, the sources added.
16 Indian troops die in border clashes
April 19, 2001

Itís Tehelka again in Houses
April 18, 2001

Cong wants JPC on Tehelka
April 17, 2001

Pant begins dialogue on Kashmir
April 16, 2001

Congress boycotts all-party meeting
April 15, 2001
India, Iran vow to fight terrorism
April 14, 2001
Vajpayee calls on Khamenei
April 13, 2001

Police arrests Zaffarwal
April 12, 2001

Teheran Declaration signed
April 11, 2001

Vajpayee to convene all-party meeting
April 10, 2001