Monday, April 23, 2001
Cyber Kids
Try lasso, cowboy style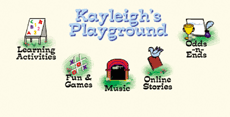 HI friends and off we go to another journey to the cyber world. Lets see what all we come across today.
Welcome to Kayleigh's playground filled with fun and games. Breakout is a Java applet where you break all blocks with the ball. You may alter speed, peddle size and other options. Connect 4 is an online version of the classic game against a computer opponent. Get offline colouring pages to print out and colour at home. Tic Tac Toe is a fun Java version of the game. Try your luck against the computer. Cattle Rustler is a fun Java game where you can try your hand at cattle rustling. Have fun trying to lasso cattle as they run by. Then of course there are maze, memory games and a zoo where you get to see all the animals at Keyleigh's playground.
Welcome to mikids.com. It has all that kids would love to have. Interested in Harry Potter? Learn new languages. Care about your physical wellness? Wish to send e-postcards. Enjoy music and play games to your fill. Practice maths and reading. Are you the inquisitive type? Know technology and world studies. Update with fast facts. And all this on mikids. Did you know April is the National Poetry month? Try your hand at poetry too!
http://geocities.com/Enchanted.com/EnchantedForest/1254/index.html
This is for all kids of all ages. This has lots of interactive pages. You can visit activities and solve puzzles suited for your age group. Go for holiday pages where you learn more about each holiday and their significance in the calendar. Visit kids pages, Michael's page, Randall's page or Robert's page. Now you must be wondering who Michael, Randall, Robert are? Well, they are the geokids. In all they are 5 geokids of different ages and with different hobbies, Dyllan is 8 and loves dinosaurs and Willie is 7 who loves Blue's clues. Know more about them and their stories, all on geocities. Earn awards and see the Web rings that are run like Dinosaurs for kids, Blue's clues and Little bear.
http://disneychannel.disney.go.com/disneychannel
You all know what this has. Yes, lots of entertainment, blast, Zeether and TV shows. Yes the whole of Disney world on you screen at a click of mouse. Watch original specials or original series. See what Jett Jackson and Zorro are up to. Watch the Disney Blast, visit the playhouse, go shopping at Disney channel. See what you wish to see. Don't wait for cartoon network to show what they want you to see.
— IV