IN PASSING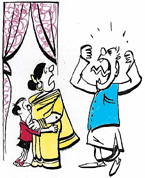 Remember, it is your home, and not Parliament!

by Sandeep Joshi
Sharma takes CBI charge
New Delhi, April 30
Even as uncertainty prevailed over the appointment of the new CBI Director, Special Director P.C. Sharma today took charge from R.K. Raghavan, who retired from the premier investigating agency after a 27-month tenure.
3 die as van hits Chief Secy's escort vehicle
Kaithal, April 30
Three persons, including a head constable, were killed and 12 others, including two women and a child, were injured in a road accident here today, the police said.
Ice-cream makes 165 kids ill
Kathua, April 30
More than 165 children fell sick today after consuming ice-cream at a festival in Mela village in the district and admitted in hospitals at Hiranagar, Kathua and Jammu.



HP for out-of-court pact on BBMB
Shimla, April 30
The Chief Minister, Mr P.K. Dhumal, will meet the Chief Ministers of Punjab and Haryana to settle out of court the dispute regarding 7.19 per cent share of Himachal Pradesh in the BBMB projects so as to generate resources to overcome the current financial crisis in the state.
CRPF vehicle blown up, 6 jawans dead
April 30, 2001
Laloo expels three party MPs
April 29, 2001
Tehelka fallout: N. K. Singh goes
April 28, 2001
Involve Pak, insists Hurriyat
April 27, 2001
Salaried class gets tax relief
April 26, 2001
Jaya out of poll fray
April 25, 2001
Govt climbs down on Tehelka JPC
April 24, 2001
India gives Dhaka clean chit
April 23, 2001

BSF men tortured, then shot dead
April 22, 2001

Rail Budget passed without debate
April 21, 2001