II
The brief summary on the philosophy of Jainism suffers from a popular misconception. It is not quite correct to say that God has no place in Jain theology. What Jains deny is the role of God as a creator. In Jain theology it is assumed that existence has no beginning. Otherwise for all other practical purposes the existence of parmatma i.e. God, is not denied. After the attainment of nirvana, atma and parmatma co-exist.
Further, an account of Jainism, however brief, will not be complete without stressing the great emphasis laid on karma by Jainism. There is no concept of grace of God in Jainism. One must face the consequences of one's karma and the only way to progress towards enlightenment is through one's own efforts. This fact along with excessive emphasis on austerity perhaps accounts for lesser popularity of Jainism as compared to other religions.
M.P. JAIN
Narnaul
III
Vardhaman postulated that the laws of karma and rebirth operate independent of God and that was his best contribution to Indian thought. There is no place for divine grace and man is, according to Mahavir, as also according to Buddha, the author and not the victim of destiny.
Vardhaman has been the only person who carried his belief in ahimsa to its logical conclusion.
One cannot preach ahimsa and slaughter living beings for food; for that would amount to preaching compassion while running a butchery. This is why Vardhaman swept the ground before stepping on it and breathed through a piece of white cloth.
The importance attached to karma, ahimsa and karuna was soon integrated into the mainstream Indian thought.
When the writer says that Gandhi elevated the concept of ahimsa to a "national and political policy", he is expressing the opinion that Jain percepts continue as a part of our heritage. Our politicians are a breed apart and how Buddha or Vardhaman would feel if they were to watch our Parliament in session is best left unsaid. And yet, regrettably, the list of invitees to the ceremony organised to celebrate Mahavir's 2600th anniversary has only ministers on it.
One wishes one could hear a scholar or two talk on Jain philosophy and ethics rather than to hypocritical rantings of politicians who have used money and violence to grab power.
L.R. SHARMA
Solan
Tales lost to time
This refers to Anna Bigelow's article "Tales lost to time" (April 21). Schemes to preserve the remarkable monuments of Malerkotla must be executed at the earliest. As the tombs of the rulers of the oldest princely state in the region represent the depth and breadth of the state's history and culture, these need to be preserved.
The writer has done well to enlighten us about the significance of these memorials.
ONKAR CHOPRA
Ludhiana
Toy trains
This is with reference to the article "A fairy-tale journey on toy trains" by A.S. Prashar (April 21) in which, besides providing other pertinent facts, the writer recounts the interesting history of the two famous toy trains of India, one running between Kalka-Shimla and the other between Pathankot-Jogindernagar.
We also have another toy train, the one running from Jalpaiguri in West Bengal to the beautiful hill station of Darjeeling. This toy train is equally beautiful and famous and luxuriously meanders through the most spectacular and breathtaking scenery.
The one running between Kalka and Shimla carries a lot of tourist load. Most of the tourists who flock to Himachal Pradesh from all over India, prefer to go to Shimla at least once by the mini train.
To tackle the overwhelming rush, the toy train runs six times a day from Kalka, usually taking around six hours to reach Shimla. Moreover, it caters to all pockets. If you wish to travel in comfort and style, you can take the Shivalik Deluxe Express or the car-type version of the train, with lots of luxurious features, including music. It takes lesser time, but costs more. The leisurely journey through lovely hills is a joy ride, for sure.
AMRIT PAL TIWANA
Kalka
Devi Lal
The two articles on Devi Lal by Raman Mohan and Jatinder Sharma (April 14) made interesting reading. The late former Deputy Prime Minister of India was truly a leader of the masses. Such simplicity as he had is indeed rare to come by in such a high-level politician.
R.K. SHARMA
Kinnaur
Exercising the mind with books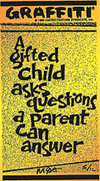 Apropos of Khushwant Singh's article "Exercising the mind with books" (April 14), books are our best friends. They are food for the mind, console us in our sorrow and make us forget the worries of life. Happy is the person who acquires the habit of reading. He secures a life-long source of pleasure, instruction and inspiration. He never feels lonely or bored.
The man who does not read books is, indeed, poor. Reading gives the highest kind of pleasure provided we choose the right kind of books.
O.P. SHARMA
Faridabad