IN PASSING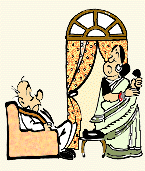 Why Mr Vajpayee is coming to our home for lunch. Do you have differences with him?

by Sandeep Joshi
30 genetically modified babies born: BBC
London, May 5
The world's first genetically modified babies have been born in the USA after women unable to conceive naturally underwent a revolutionary new fertility treatment, the BBC reported.
Poorna Vijay exercise begins
New Delhi, May 5
India today began its largest military exercise in 13 years that will train troops to face nuclear, biological and chemical weapons' strikes.
Commonwealth Secy-General arrives today
New Delhi, May 5
Commonwealth Secretary-Gen Don McKinnon is arriving here on May 6 on a three day official visit for consultations with the Indian government on the next Commonwealth Heads of Government Meeting being held in Brisbane from October 6.



Migrants who fell in love with Sikhism
Jalandhar, May 5
Employment avenues in the state have always been attracting migrant labourers from states like Bihar and Madhya Pradesh, but for many what may seem unusual is that scores of them have fallen in love with the Punjabi culture and ultimately embraced Sikhism.

Babu Ram, now Babu Singh, and Mukesh Yadav, now Tara Singh.
Charges dropped in Ayodhya case
May 5, 2001
Shabir's response positive: Pant
May 4, 2001

Pant aides prepare ground for talks
May 3, 2001

Musharraf backing J&K insurgency
May 2, 2001

Army begins probe into depot fire
May 1, 2001

CRPF vehicle blown up, 6 jawans dead
April 30, 2001

Laloo expels three party MPs
April 29, 2001
Tehelka fallout: N. K. Singh goes
April 28, 2001
Involve Pak, insists Hurriyat
April 27, 2001
Salaried class gets tax relief
April 26, 2001
Jaya out of poll fray
April 25, 2001