IN PASSING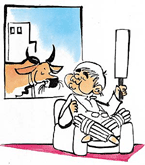 What? You want to graze in the lush green grass of the Bihar Cricket Association ground!
by Sandeep Joshi
CM's cheques put on hold
Patiala, May 7
Signed government cheques don't mean anything if the administration does not want you to withdraw the money. This is being discovered by residents of Samana who were bestowed largesse of a few crores by Chief Minister Parkash Singh Badal at a sangat darshan programme.
200 villagers in grip of mysterious fever
Nahan, May 7
Mysterious fever has gripped more than 200 residents of Kamrou village in Paonta subdivision. Many of the patients are reported to be very serious and have been referred to the PGI, Chandigarh.
Ex-minister Dalal booked for graft
Chandigarh, May 7
Mr Karan Singh Dalal, a minister in the erstwhile Bansi Lal-led Haryana Vikas Party and BJP coalition government has been booked under the Prevention of Corruption Act.



300 cr shortfall in IT collection
Chandigarh, Patiala up; Ludhiana down
Chandigarh, May 7
Collection of income tax in the entire North Western Region comprising Punjab, Chandigarh and Jammu and Kashmir has fallen behind fixed targets by a margin of 18 per cent or nearly Rs 300 crore.
Plot to kill Tehelka chief uncovered
May 7, 2001
Ultras kill 6 Cong men
May 6, 2001
Charges dropped in Ayodhya case
May 5, 2001
Shabir's response positive: Pant
May 4, 2001

Pant aides prepare ground for talks
May 3, 2001

Musharraf backing J&K insurgency
May 2, 2001

Army begins probe into depot fire
May 1, 2001

CRPF vehicle blown up, 6 jawans dead
April 30, 2001

Laloo expels three party MPs
April 29, 2001