IN PASSING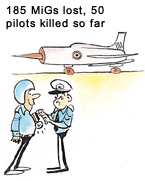 This bravery award is for your uneventful Delhi-Bombay flight!

by Sandeep Joshi
Sikkim, Mizoram Governors named
New Delhi, May 8
Veteran BJP leader Kedar Nath Sahani was today appointed Governor of Sikkim while former Adviser to Mizo leader Laldenga Amolak Rattan Kohli was named as Governor of Mizoram.
Order reserved on Fardeen's bail plea
Mumbai, May 8
A Mumbai court reserved its order on the bail application of film star Fardeen Khan, who was arrested by the Narcotics Control Bureau on Saturday for allegedly possessing cocaine, till may 18.
HP to blame for Rozy's death
New Delhi, May 8
The Wildlife Trust of India (WTI), an NGO working for the conservation of wildlife, has blamed the Himachal government for its "obstinate attitude" in not moving Rozy, the rare snow leopard, to Darjeeling zoo.
Acute water crisis in Shimla
Shimla, May 8
People are making a beeline around tankers to fetch drinking water as the town has plunged into a water crisis with taps going dry in many areas because of the sudden fall in the water level of the two main reservoirs.

People queue up for water from a tanker in Lakkar Bazar, Shimla, on Tuesday.—Photo by Anil Dayal
Sonia blasts AGP, BJP
May 8, 2001
Plot to kill Tehelka chief uncovered
May 7, 2001
Ultras kill 6 Cong men
May 6, 2001
Charges dropped in Ayodhya case
May 5, 2001
Shabir's response positive: Pant
May 4, 2001

Pant aides prepare ground for talks
May 3, 2001

Musharraf backing J&K insurgency
May 2, 2001

Army begins probe into depot fire
May 1, 2001

CRPF vehicle blown up, 6 jawans dead
April 30, 2001

Laloo expels three party MPs
April 29, 2001