IN PASSING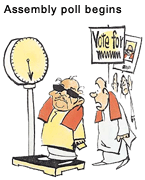 Sir, it is better to wait for another week to know your 'political weight'!
by Sandeep Joshi
Court admits Laloo's plea
Validity of arrest warrants challenged
Ranchi, May 9
The CBI designated court that had issued the arrest warrant against Laloo Prasad Yadav and Jagannath Mishra along with others in connection with a case in the Rs 950 crore fodder scam on Wednesday admitted a petition filed by the lawyers of the two challenging the validity of its verdict and issued notice to the CBI counsel to file a reply.
Squall leaves 3 dead, 80 hurt in Kashmir
Srinagar, May 9
At least three persons were killed and 80 others injured when a high velocity windstorm lashed several parts of the Kashmir valley, official sources said today.
Defence production opened to private sector
New Delhi, May 9
In a significant decision, the government today decided to take the defence production off the list of industries reserved for the public sector.
Badal under fire for minister's 'misconduct'
Amritsar/Bathinda, May 9
Even as Mr Chiranji Lal Garg, Minister for Science and Technology, the lone Hindu Akali minister in the Badal government, could not be summoned at Akal Takht for having attended an eye camp organised by Nirankaris at Bathinda, in violation of the hukamnama directing the Sikhs to sever all relations with Nirankaris many Sikhs especially the leadership of the Sarb Hind Shiromani Akali Dal (SHSAD) has sought action against Mr Parkash Singh Badal who heads the ruling Shiromani Akali Dal.
Laloo, Mishra may be arrested today
May 9, 2001
Sonia blasts AGP, BJP
May 8, 2001
Plot to kill Tehelka chief uncovered
May 7, 2001
Ultras kill 6 Cong men
May 6, 2001
Charges dropped in Ayodhya case
May 5, 2001
Shabir's response positive: Pant
May 4, 2001

Pant aides prepare ground for talks
May 3, 2001

Musharraf backing J&K insurgency
May 2, 2001

Army begins probe into depot fire
May 1, 2001

CRPF vehicle blown up, 6 jawans dead
April 30, 2001

Laloo expels three party MPs
April 29, 2001