IN PASSING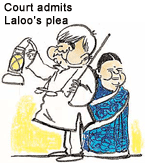 Rabriji, you know that I am as clean as Jayalalithaji!

by Sandeep Joshi
Man, machine withstand gruelling exercise
Hansera, (Thar Desert), May 10
The man and the machine have been put to the ultimate test under the soaring temperatures of the Thar Desert in the backdrop of nuclear and chemical warfare environment as part of the ongoing wargames.

Soldiers participate in a military exercise as part of "Poorna Vijay" wargames in Thar Desert of Rajasthan on Thursday.
— Reuters photo

Ex-Speaker's grandson arrested
Kurukshetra, May 10
Former Haryana Vidhan Sabha Speaker H.S. Chattha's grandson Ripu Daman, and his accomplice, Inderjeet Ahuja, have been arrested under Section 21 of the NDPS Act, 1885 for allegedly possessing 3 gm and 20 gm of smack, respectively.
Not a grain brought to 2 Rohtak mandis
Rohtak, May 10
Although the district is facing wheat glut because of heavy arrivals at least two mandis have not received a grain of the crop till date. The government has this year again notified 11 mandis in the district as purchase centres for wheat. These are Rohtak, Meham, Kalanaur, Lakhanmajra, Sampla, Madina, Kahnaur, Kiloi, Sanghi, Myna and Hassangarh.
4 states go to polls today
May 10, 2001
Laloo, Mishra may be arrested today
May 9, 2001
Sonia blasts AGP, BJP
May 8, 2001
Plot to kill Tehelka chief uncovered
May 7, 2001
Ultras kill 6 Cong men
May 6, 2001
Charges dropped in Ayodhya case
May 5, 2001
Shabir's response positive: Pant
May 4, 2001

Pant aides prepare ground for talks
May 3, 2001

Musharraf backing J&K insurgency
May 2, 2001

Army begins probe into depot fire
May 1, 2001

CRPF vehicle blown up, 6 jawans dead
April 30, 2001