IN PASSING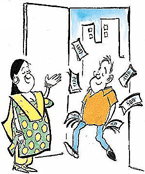 It looks like you have managed to attend Badal's 'sangat darshan'!

by Sandeep Joshi
33 medicos' rustication revoked
Dharamsala, May 11
The special disciplinary committee of Dr Rajendra Prasad Medical College has revoked the rustication of 33 of second year students. Their conduct will remain on probation for a year.
Sikh MPs' group on the cards
New Delhi, May 11
An apolitical pressure group of Sikh MPs, irrespective of their ideology and party affiliation, is expected to be formed by the end of this month to lobby with the Centre for protecting the interests of the minority community.
Amritsar sizzles at 46.9°C
Chandigarh, May 11
The heat wave continued unabated in most of the northwest region today with the mercury shooting to 46.9°C in Amritsar and 46.1°C at Halwara. There may be little respite for the people over the next few days.



Ludhiana becoming crime centre
Migrant population much to blame
Chandigarh, May 11
As per the latest provisional census figures, Ludhiana with a population of 30.30 lakh, ranks number two in Punjab, next only to Amritsar. But in terms of growth rate, Ludhiana tops with 24.79 per cent (1991-2001).
Poll violence claims 13 lives
May 11, 2001
4 states go to polls today
May 10, 2001
Laloo, Mishra may be arrested today
May 9, 2001
Sonia blasts AGP, BJP
May 8, 2001
Plot to kill Tehelka chief uncovered
May 7, 2001
Ultras kill 6 Cong men
May 6, 2001
Charges dropped in Ayodhya case
May 5, 2001
Shabir's response positive: Pant
May 4, 2001

Pant aides prepare ground for talks
May 3, 2001

Musharraf backing J&K insurgency
May 2, 2001