IN PASSING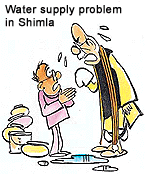 Please shed more tears for the party's defeat. At least our water problem will be sorted out!

by Sandeep Joshi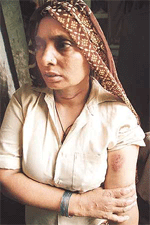 Monkey-man attacks continue
New Delhi, May 16
The elusive monkey-man today attacked a 17-year-old boy in the Maujpur area of North-East district of the Capital even as the police claimed that no such incident had taken place since last night due to the tight security and intensified patrolling and picketing.
Om Kali displays a wound after she was attacked by a monkey like creature in Delhi. — Reuters photo
Women shine in Civil Services examinations
New Delhi, May 16
Vijayalakhmi Bidari from Bangalore and Shahla Nigar from Hazaribagh, Bihar have bagged the first two positions, respectively, in the Civil Services (Main) examinations, results of which were announced by the Union Public Service Commission today.


Revenue officials in cahoots with land mafia
Amritsar, May 16
Buyers beware! The sale deed of the same piece of land can be registered twice, thrice or any number of times thanks to the nexus of revenue officials, police, property dealers and lawyers.
President not consulted on Jaya's installation
May 16, 2001
Jaya sworn in CM
May 15, 2001
AIADMK, Cong, Left Front back in power
May 14, 2001
2 Hinduja brothers allowed to go abroad
May 13, 2001
Decision on CDS deferred
May 12, 2001
Poll violence claims 13 lives
May 11, 2001
4 states go to polls today
May 10, 2001
Laloo, Mishra may be arrested today
May 9, 2001
Sonia blasts AGP, BJP
May 8, 2001
Plot to kill Tehelka chief uncovered
May 7, 2001