Shabir to consult all Kashmiris
DFP makes Pant's letter public
Tribune News Service and PTI
Srinagar, May 16
The Democratic Freedom Party (DFP) of Mr Shabir Ahmad Shah has decided to consult "Kashmiris across the globe" before responding to Mr K.C. Pant, chief negotiator of the Centre for holding talks with various Kashmiri groups.
A meeting of the DFP general council will also be held here on May 25 to deliberate on the letter sent by the Centre's chief negotiator. The letter was delivered to Mr Shah by Mr Naresh Kumar Jain here yesterday.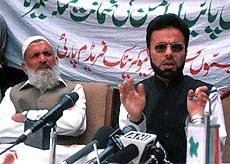 Two senior leaders of the Jammu and Kashmir Democratic Freedom Party, Moulana Mohammad Abdullah Tari and Syed Saleem Geelani (right), at a Press conference in Srinagar on Wednesday. The party sought public opinion to the letter received by its president Shabir Ahmad Shah from government negotiator K. C. Pant on Tuesday. — PTI photo

"We are in need of more time to take a final decision on the letter from Mr Pant", said Mr Saleem Geelani, one of the close associates of Mr Shabir Shah, while talking to mediapersons here this afternoon. He was accompanied by Maulana Abdullah Tari, general secretary of the DFP, both of whom had earlier this month delivered the letter from Mr Shah to Mr Pant in Delhi. Mr Tari said that Mr Shah was busy in consulting leaders from across the globe and also Kashmiris in Pakistan. Those in Pakistan also include the militant leaders there.
The separatist leaders did not give any time frame for responding to Mr Pant. They, however, said the contents of the letter would be discussed in accordance with the transparent policy of the organisation. The organisation here on April 28 last also discussed in detail the invitation from Mr Pant to Mr Shah.
The letter was made public today by Mohammad Abdullah Tari, JKDFP secretary general, who told reporters that the Kashmir issue was delicate and the party needed enough time to react to Mr Pant's communication. Mr Pant wrote the letter in response to Mr Shah's communication seeking clarifications from the interlocutor on certain issues.
"The Government of India is not averse to engaging in meaningful talks on Jammu and Kashmir and is hopeful that Pakistan will cooperate with India and initiate measures that would facilitate the process," Mr Pant said in the letter.
Mr Pant said the government had taken and was willing to take further steps that would contribute to a "meaningful dialogue: being the initiators, we are committed to its success.
"It was in this spirit that the Prime Minister had taken various initiatives like the Lahore visit, announcement of unilateral ceasefire, etc," the letter said.
Thanking Mr Shah for his party's resolve to seek a peaceful political solution to the Kashmir issue through dialogue, he said a serious and well-meaning beginning needed to be made through a graduated peace process.