IN PASSING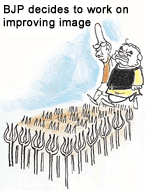 The parivar says this is our path to glory!

by Sandeep Joshi
Stokes faction suffers setback
Shimla, May 19
The Vidya Stokes faction of the Congress has suffered a setback with two senior leaders of the Himachal Vikas Party (HVP) denying they had joined the Congress.
Dhumal reshuffles portfolios
Shimla, May 19
To placate rebels in the ruling BJP, Himachal Chief Minister, Mr P. K. Dhumal, today reshuffled portfolios of his ministers and allocated more departments to Mr K.K. Kapoor, Mr Rajan Sushant and five of his own loyalist.
Refused salary, clerk kills daughters, self
Ferozepore, May 19
Irked over non-payment of salary, a senior clerk in the office of the Deputy Commissioner here committed suicide after killing his two daughters.



Dalits barred from temple
Patiala, May 19
In the land of the Gurus known for brotherhood among all sections of society, gross discrimination is being meted out to Dalits who are not being allowed to either pray at the sanctum sanctorum of a temple located 15 km from here or partake of 'langar'.
Badal pleads for 'blacklisted' Sikhs
May 19, 2001
Cabinet expansion in early June
May 18, 2001
Kashmir issue bilateral
May 17, 2001
President not consulted on Jaya's installation
May 16, 2001
Jaya sworn in CM
May 15, 2001
AIADMK, Cong, Left Front back in power
May 14, 2001
2 Hinduja brothers allowed to go abroad
May 13, 2001
Decision on CDS deferred
May 12, 2001
Poll violence claims 13 lives
May 11, 2001
4 states go to polls today
May 10, 2001