Sunday, May 20, 2001, Chandigarh, India



S P O R T S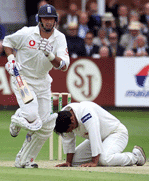 England captain Nasser Hussain runs past a dejected Akhtar during the third day of the first Test against Pakistan at the Lords in London on Saturday.
— Reuters photo
England stun Pak with four quick wickets
London, May 19
England responded to the loss of injured captain Nasser Hussain for the rest of the series by reducing Pakistan to 115 for four after the third day of the rain-affected first Test on Saturday.

Hussain's thumb fractured by Akhtar delivery
London, May 19
England captain Nasser Hussain will be out of action for "three to four weeks" according to an England and Wales Cricket Board spokesman after having his thumb fractured by Pakistan pace bowler Shoaib Akhtar at the Lord's today.


Match-fixing still on: ICC report
London, May 19
Despite the life bans on prominent cricketers and stringent new constraints, the scourge of match-fixing in international cricket was still on and recent matches involving Pakistan are being investigated, media reported today.
Hussain holds firm for England
May 19, 2001
Mohanty, Nehra, Dighe for Zimbabwe tour
May 18, 2001
Harvinder Singh, Nehra likely to get nod
May 17, 2001
Dighe may be first choice in Zimbabwe: Ganguly
May 16, 2001
ACB awaiting BCCI confirmation
May 15, 2001
Windies crash to 53-run defeat
May 14, 2001
India down Brunei 1-0
May 13, 2001
India clash with lowly Brunei today
May 12, 2001
Medal prospects gloomy: Bharti
May 11, 2001