During the press conference, Microsoft also announced strengthened relationships with powerhouse console game studios Capcom Co. Ltd. and Sega Entertainment Inc., further cementing Microsoft's support from the world's best game developers and ensuring delivery of only the best video games for Xbox.
Capcom confirmed that it will develop three games for Xbox, including two Xbox exclusives — "Dino Crisis 3"(tentative title), the latest in the famed "Dino Crisis" series produced by Shinji Mikami, and "Brain-box" (code name and tentative title), an original robot simulation game also produced by Mikami. In addition, the popular game "Onimusha" will be optimised for Xbox and produced by Keiji Inafune.
Sega announced that it is creating Xbox versions of its best-selling Sega Sports™ 2K2 games, as well as Crazy Taxi™ Next and House of the Dead™ 3. The games will ship in the Xbox 2001 launch window in North America. Sega also committed to design its Sega Sports 2K3 lineup for the Xbox broadband online game service, which is scheduled to launch in the first half of 2002. Sega's commitment ensures that its future games will take advantage of the broadband Ethernet connection and hard disk built into every Xbox.
"Having Capcom and Sega on board reinforces the incredible quality and selection of games that Xbox will deliver this fall," Bach said. "The creative artists at these studios will not only deliver great Xbox games, but they will help us establish the benchmark for great gaming experiences to come."
Sega Sports' entire 2K3 lineup (including "NFL 2K3" and "NBA 2K3"), "Tony Hawk Pro Skater 3, "Unreal Championship" and "Tom Clancy's Ghost Recon" are among the games with online capabilities that will debut in the first half of 2002.
"Online console gaming over broadband will change the face of video games forever," Bach said. "When the Xbox online experience goes live in the first half 2002, our development partners will have games ready that will demonstrate how broadband online video games will have as dramatic an impact on the industry for the current generation of games as the move from 2-D to 3-D graphics did for the previous generation."
Xbox Allies With Warner Bros. and Universal Interactive Services
Sony's strategy
Sony Corp's game unit said it would form an alliance with Web design and software maker Macromedia Inc to help PlayStation 2 game console users access multimedia content over the Internet.
The tie-up is the latest in a series of moves this week by Sony as it attempts to transform PlayStation 2 into a home entertainment hub with capacity to handle Internet access, telecom, broadcasts, movies, music and games.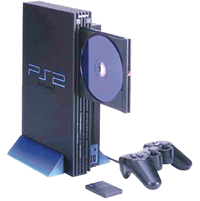 Under the agreement, the more than 10 million users of the PlayStation 2 computer entertainment system will be able to use the Macromedia Flash Player to access multimedia content over the Internet, Sony's game-making unit Song Computer Entertainment Inc said in a statement issued late on Wednesday.
Sony also announced a similar tie-up with streaming media company RealNetworks Inc to embed RealPlayer 8 and other RealNetworks technologies in PlayStation 2 and in the software development kit for it.
That deal will enable PlayStation 2 users to receive video and audio over the Internet and access Internet media, including sports, news and entertainment, through RealPlayer.
Earlier in the week, Sony and AOL Time Warner unveiled an alliance that will let users of PlayStation 2 access the Web, chat and e-mail using the AOL service. The moves come as Sony, the reigning king of video game consoles, faces challenges from industry old-timer Nintendo Co Ltd's GameCube and newcomer Microsoft Corp's Xbox.
The GameCube console will be launched in Japan in September and the USA in November. One player has already dropped out of the fray — Sega Corp had said earlier this year that it would stop making the slow-selling Dreamcast console to focus on game software. — Agencies