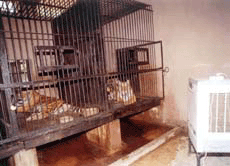 Tigers are in front of cooler in Patna Zoo on Thursday, where temperatures have crossed 42 degrees celsius and continue to rise. — PTI photo
Shanmugam sworn in Pondicherry CM
Pondicherry, May 24
Senior Congress leader P Shanmugam was today sworn in Chief Minister of Pondicherry at a simple ceremony at the Raj Nivas here. Lt Governor Dr Rajani Rai administered the oath of office and secrecy to him. Mr Shanumugam was sworn in alone.
SC to hear petitions against Jaya on June 4
New Delhi, May 24
The Supreme Court will take up for hearing on June 4 the two writ petitions filed before it, challenging the swearing-in of Ms J. Jayalalitha as Chief Minister of Tamil Nadu after she was disqualified from contesting the Assembly elections.
Ex-Telecom Secy to mediate in Dabhol imbroglio
New Delhi, May 24
The Centre has stepped in to help resolve the stalemate between the Dabhol Power Company and the Maharashtra State Electricity Board (MSEB) by nominating a senior retired bureaucrat as its nominee on the negotiating committee constituted by the Maharashtra Government.
High command steps in to end HP infighting
New Delhi, May 24
Taking note of the ugly scenes during an important party rally in Nagrota recently, the Congress high command is trying to resolve differences between senior party leaders in Himachal Pradesh.
Cong accuses govt of U-turn on talks
New Delhi, May 24
Welcoming the move to invite Pakistan Chief Executive Officer Gen Pervez Musharraf for talks, the Congress, however, has criticised the government for its inconsistency and U-turn on the issue.
Pakistani poet's dream proves costly
New Delhi, May 24
The fate of 38-year-old asylum seeker Pakistani Urdu poet Aftab Husain from Lahore continues to hang in balance even as Prime Minister Atal Behari Vajpayee renewed his peace offensive inviting General Pervez Musharraf for talks.
WB CM to meet PM on May 29
Koltkata, May 24
The newly elected Chief Minister of Bengal's Left Front government, Buddhadev Bhattacharyya does not want needless confrontation with the Vajpayee government at the Centre.
PPCC may move court over 1998 RS poll
New Delhi, May 24
The Punjab Pradesh Congress Committee is likely to move the Punjab and Haryana High Court about the 1998 Rajya Sabha elections from the state following restoration of its earlier writ petition by the Supreme Court.
No drinking water in mandis
Hanumangarh, May 24
The unavailability of drinking water in the local mandis is inconveniencing the cultivators who come to sell thin crop. Though there are two overhead water tanks, one each in the town and the junction grain market, due to lack of maintenance, these are lying unused.
HC rejects Manu Sharma's plea
New Delhi, May 24
The Delhi High Court today rejected a plea by Siddharth Vashisht, alias Manu Sharma, the prime accused in Jessica Lal murder case, for an early hearing of his bail application.
DRI opposes plea of Afghan national
New Delhi, May 24
The Directorate of Revenue Intelligence (DRI) today opposed the bail petition of Afghan national Del Agha, an accused in a major smuggling chain involving some Uzbek women and Afghans, saying that he was the racket kingpin.
Advani to open Heart Centre today
Ghaziabad, May 24
Union Home Minister L.K. Advani will inaugurate high-tech Heart Centre at Narinder Mohan Hospital run by a charitable institution in Mohan Nagar here tomorrow.