Narayan does not sermonise on the ethical conduct of man but he does not refrain from giving out an amused utterance whenever he comes across something that clashes with his rationale. One such occasion is when Jagan in Vendor of Sweets notices that "he has the whitest beard and sells the blackest hair dye." Such an irony of situation is to be found galore in almost all novels of Narayan.
Narayan can be viewed as an exemplary model of a committed author who remains unsurpassed in this harmonious blend of the hard realism of daily life with the lofty idealism of traditional Indian heritage.
It intrigues and fascinates us to reconstruct in imagination a picture of Malgudi and its surroundings from a close study of Narayan's novels. Thereby we join the Malgudi crowd — its author as well as its natives — and it does not require much effort on our part to feel as one amongst them.
"After all, Malgudi is a small town: everyone is within shouting distance." (Jagan in Vendor of Sweets.)
The simplicity of the vendor and the naivety of his customers is touching when we see them spending about half an hour discussing politics before asking for sweets and their price. The humour aroused at the obvious taps the tender chords of the reader's emotions who effortlessly accepts the oddity of the gesture on part of the customers as well as the vendor. When real life cannot segregate itself from the one created by the novelist, the subtlety of the art that can give rise to such a doubling in identity can be said to belong to none other than R.K. Narayan as does the deep impact of Malgudi with its cultural backdrop which remains steadfast.
USHA KAPUR, Chandigarh
II
The write-ups on R.K. Narayan by Ashwini Bhatnagar and Rajnish Wattas made interesting reading. Ranjit Wattas sounded a note of identification with the common reader and admirer of the late writer.
One cannot forget the serial Malgudi Days which was not only rich in its content, presentation and local idioms, but laced with cartoons drawn by the late writer's equally well-known brother R.K. Laxman and the characterisation of the simpleton and near rustic characters. Verily, there are no last words said on the death of maestros for they live eternally in our hearts.
RAJBIR DESWAL, New Delhi
III
Your beautifully displayed front page tribute to R.K. Narayan was both timely and well chiselled.
BALVINDER, via e-mail
Celebrating old age
This refers to the article "Celebrating old age" (May 5) by Khushwant Singh.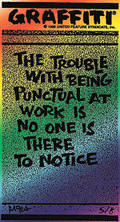 Nothing is more certain than the passage of time and the changes that come with it. Whether we like it or not, we are all growing old each day. The passing of time always brings subtle changes that cannot be ignored. The extra lines on the face in the form of wrinkles, grey hair and other changes convey that we have started ageing.
For facing old age, much depends on the attitude of the mind. A merry heart works like a medicine. A cheerful, optimistic outlook is of greatest importance in helping one face the infirmities of old age and celebrating it merrily with our near and dear ones.
Let us, therefore, meet the challenge of old age with the art of laughter, which is the best medicine for a long, smooth and happy life. He who laughs ... lasts! Some one has aptly said: 'Like a candle in a holy place, so is the beauty of an aged man's smiling face".
O.P. SHARMA, Faridabad