Being 100 must give a person a feeling of loneliness. All your contemporaries have departed and there is not much to look forward to in life. Dr Margaret Murray in her autobiography My First Hundred Years put it nicely: "At my age I stand as it were, on a high peak alone. I have no contemporaries with whom I can exchange memories or views. But that very isolation gives me a less biased view of that vast panorama of human life which is spread before the eyes of a centenarian, still more when those eyes are the eyes of an archaeologist. It is true that much of the far distance is shrouded in cloud and mist, but every here and there the fog thins a little and one can see clearly the advance of mankind".
The most appropriate birthday greeting for Bhabesh Sanyal is "Stay in good health and enjoy yourself till the very end".
For Prem Kirpal I have a good quotation from Frank Buxton, once editor of the Boston Herald from his memoirs At Ninety-six:
I never thought that Iíd survive,
That Iíd contrive to stay alive
and whoop it up at ninety-five.
But, damn it all, I find that Iíve
Increased the score
To one year more
Wow:
And now, you know, it seems to me
That even one full century
Need not be necessarily
A real impossibility.
By contrast with my friends, I feel a teenager: I am only 86. Although my vision is slightly impaired and I am somewhat unsteady on my feet, I still relish the company of young and attractive women and relish my hefty sundowners. I keep a punishing schedule of work from 4.30 a.m. to 7 p.m., without getting tired. But I can see the end of the road drawing nearer and nearer. I donít celebrate birthdays because I donít feel there is any reason to celebrate them. I know I have not very far to go and remain a confirmed agnostic. I share the nonchalance that Sir Winston Churchill expressed at the age of 75: "I am ready to meet my Maker. Whether my Maker is prepared for the ordeal of meeting me is another matter".
God of all sports
People who watch games on their TV sets must have noticed how many players attribute their achievements to God who, they presume, lives up in the clouds. As soon as Tendulkar, Ganguly, Dravid, Laxman and other batsmen score 50, 100, 150, or 200, they first take off their helmets to raise their bats to acknowledge cheering of spectators, then look briefly upwards to give thanks to the Uparwala. This phenomenon is not limited to cricket players. Before the start of a hockey match, youíll notice rival teams huddle together at either end of the field, put their heads together and say a short prayer for victory. Likewise tennis players like the Amritraj brothers and Leander Paes may be noticed kissing the cross they wear in their necklaces to lend more punch to their service and smashes. Iíve noticed players of some other nations perform similar gestures in honour of their deities: Pakistanis, Sri Lankans, Africans and Latins. I have never seen Englishmen, Australians, New Zealanders or white Africans take much notice of the god of sports.
Then there are different modes of expressing joy. The wildest are the soccer players. No sooner does a chap score a goal, he is like one possessed. He will run like a mad man waving his arms, yell and perform some acrobats. His team mates chase him, jump on him ó all to tell him how much they love him for having kicked the football into their rivalsí net. Cricketers have their own victory ritual. As soon as an enemy wicket falls, the opponents raise both hands upwards, emit yells of triumph and run towards each other to slap palms and embrace one another. The most explosive of these demonstrations occur when bowlers or wicket-keepers demand the batsman be ordered back to the pavilion for putting his leg before the wicket.
Having mortal fear of the stone-hard ball I refused to play cricket in my younger days. My mentor assured me it was very simple: "Siddhi roke, dingee thoke" (block the straight one, slam the crooked one). But what about the one which comes like a bullet towards your nose or the genitals? No thank you. Even hockey was for me safer than cricket.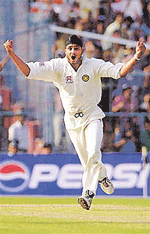 This brings me to Harbhajan Singh, the lad from Jalandhar who few people had heard of before the test series against the invincible Australians but has now become a cricket celebrity. He doesnít look like a sportsman:he is too thin and lanky.He does not look like an ace bowler: he twirls the ball around in his hand before delivering it with awkward movements of his hands and legs. But he gets the wickets ó once three in a row. What I found most charming about him was that he could hardly speak any English. It is either Doaba Punjabi or Punjabi-Hindi. And humble as they come. In his interview in Savaal Aapkey, he parried all the flattering comments hurled at him by attributing his success to Bhagwan.
As Jesus went
An old preacher was dying. He sent messages to his doctor and lawyer, both church members, to come to his home. When they arrived, they were ushered up to his bedroom. The preacher held out his hands and motioned for them to sit on either side of his bed. The preacher grasped their hands, sighed contentedly, smiled and stared at the ceiling.
For a time, no one said anything. Both the doctor and lawyer were touched and flattered that the old preacher would ask them to be with him during his final moments. They were also puzzled; the preacher had never given any indication that he particularly liked either of them. They both remembered his many long, uncomfortable sermons about greed, covetousness and avaricious behaviour that made them squirm in their seats.
Finally, the doctor asked, "Preacher, why did you ask the two of us to come"?
The old preacher mustered up some strength and replied weakly, "Jesus died between two thieves ... and thatís how I want to go".
(Contributed by Amir C. Tuteja, Washington)