Tuesday, June 12, 2001, Chandigarh, India
Updated at 3 am (IST)
Giani Kewal Singh may quit
High Priests hold in-camera meeting
Amritsar, June 11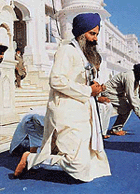 Giani Kewal Singh, Jathedar, Takht Damdama Sahib, is under tremendous pressure to resign following issuance of non-bailable warrants against him in connection with the alleged suicide by his daughter-in-law.
Non-bailable warrants against Jathedar
Talwandi Sabo, June 11
Mr Jatinder Singh Bheniwal, Judicial Magistrate, today issued non-bailable warrants against the Jathedar of Takht Damdama Sahib, Giani Kewal Singh, his son Barjinder Singh and a close kin, Joginder Kaur.
CAST YOUR VOTE
Mr Advani sees shift in Pakistan's stand on J&K, do you?