THE TRIBUNE MAGAZINES
On Mondays

On Sundays
On Saturdays
India, Russia test-fire missile
Chandipur-on-sea, June 12
A 280-km range surface-to-surface supersonic cruise missile, which uses propulsion from Russia and an Indian guidance system, was today successfully test-fired from the interim test range on the Orissa coast here.
Kantipur Editor may move SC
Kathmandu (nepal), June 12
The six-day-long detention of the Editor and publishers of the Nepali daily, Kantipur, has been prolonged till Friday.
IN PASSING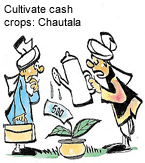 This crop is reserved for politicians only!

by Sandeep Joshi
Cong suffers loss of face
Oppn fails to move no-trust motion
Chandigarh, June 12
The Congress today proved that what the Haryana Chief Minister, Mr Om Prakash Chautala, says about the state's "misfortune in having a weak Opposition" is not without substance.
PPCC chief: Jakhar may be dark horse
New Delhi, June 12
A sizeable section of the faction-ridden Punjab Pradesh Congress Committee believes that if the leadership is not changed expeditiously, the party might be left by the wayside in next year's Assembly elections.



HP Cabinet reverses Cong decision
Three nagar panchayats to be created
Shimla, June 12
Succumbing to the pressure of agitating residents of the newly merged areas of Dhalli, Kasumpti and Tutu, the state Cabinet today ordered that these areas would not fall under the jurisdiction of the Shimla Municipal Corporation, instead separate nagar panchayats would be set up.
Giani Kewal Singh may quit
June 12, 2001
Hurriyat suspends 'people's movement'
June 11, 2001
Advani sees shift in Pak stand
June 10, 2001
5 devotees dead, 60 injured
June 9, 2001
Panel gets sweeping powers
June 8, 2001
Gyanendra spells out probe terms
June 7, 2001
Oppn leader quits probe panel
June 6, 2001
Four killed as riots break out in Nepal
June 5, 2001
Kutch gets five-year tax holiday
June 4, 2001
Nepal Prince massacres Royal family
June 3, 2001
7 Afghan guerrillas shot in Rajouri
June 2, 2001