THE TRIBUNE MAGAZINES
On Mondays

On Sundays
On Saturdays
BJP announces candidates
All sitting MLAs renominated
Chandigarh, June 14
The BJP today announced its candidates for the coming Assembly elections in Punjab. All sitting MLAs of the party have been renominated as candidates for the poll. They have been told to start preparations in their respective constituencies. The party has also told its five candidates who had lost the last Assembly elections to be ready to re-contest the poll.
IN PASSING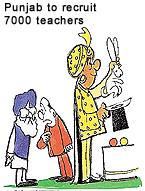 Sir, can we hire his services?

by Sandeep Joshi
VP to appear before Ayodhya panel
Babri stir for votes: Advani
Varanasi, June 14
Former Prime Minister V.P. Singh today expressed his willingness to depose again before the Liberhan Commission to put on record his account of the events leading to the demolition of Babri Masjid at Ayodhya in 1992.


MLA beats up SP with chappals
Patna, June 14
The Superintendent of Police (SP) Gaya, Mr Raveendran Shankaran was faced with a nightmare coming alive on Wednesday whesn the RJD legislator of Barachhati, Mrs Bhagwatia Devi beat him with her chappals and reportedly abused him. The SP has admitted the veracity of the incident.
Terms for recognition to PSGPC
Jatha leaders submit report to Talwandi
Amritsar, June 14
The Shiromani Gurdwara Parbandhak Committee has refused to grant recognition to the Pakistan Sikh Gurdwara Prabandhak Committee (PSGPC) headed by Lt-Gen Javed Nasir (Retd), a former ISI Chief, unless it finalises its constitution approved by various Sikh institutions.
APHC: political activity not suspended
June 14, 2001
Mosque siege ends, all ultras shot
June 13, 2001
Giani Kewal Singh may quit
June 12, 2001
Hurriyat suspends 'people's movement'
June 11, 2001
Advani sees shift in Pak stand
June 10, 2001
5 devotees dead, 60 injured
June 9, 2001
Panel gets sweeping powers
June 8, 2001
Gyanendra spells out probe terms
June 7, 2001
Oppn leader quits probe panel
June 6, 2001
Four killed as riots break out in Nepal
June 5, 2001