Williams to promote Indian tennis
Bangalore, June 26
Richard Williams, father of famed tennis duo Serena and Venus, has grand plans to promote tennis in India.
Salt Lake City gears up for Olympic Games
Salt Lake City, June 26
Salt Lake City is busy signing up 19,000 volunteers to help its Winter Olympics run smoothly. With just over seven months to go until the games, Olympic fever — which had been dampened by the bribery scandal surrounding the city's selection as host — is breaking out again in Utah.
Jeev for US PGA Tour event
New Delhi, June 26
Jeev Milkha Singh has received a special invitation to take part in The International, an event on the top-grade US PGA Tour, according to information available here.
Archana struggles, easy for Sheetal
New Delhi, June 26
Archana Venkataraman, the second seed, scraped past Yamini Thukkaiandi by the skin of her teeth, to make the quarter-final round of the ITF Women's Masters Tennis Tournament at the Delhi Lawn Tennis Association court here today.
Bhiwani emerge winners
Chandigarh, June 26
Bhiwani emerged winners in the 12th Haryana State Junior Athletic Championship at Gurgaon by winning 222 points whereas Hisar stood second with 216 points where 21 new records were created by the athletes today.
Bhutia keen to join Indian squad
Kolkata, June 26
Star striker Bhaichung Bhutia is keen to join the Indian football team during its forthcoming tour of England though he has not sought official permission from his club Bury FC yet.
Judo probables
Ludhiana, June 26
The following judokas have been selected for the Punjab probables camp to be held at Hoshiarpur and Patiala in preparation of the Punjab judo teams to participate in the forthcoming National Games to be held in Punjab in September.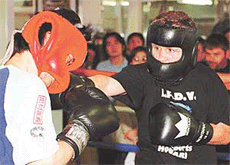 French boxer Julien Lorch (R) exchanges punches with his sparring partner during a training session in a Tokyo gym on Tuesday. Lorcy will fight WBA champion Takanori Hatakeyama on July 1 in the WBA lightweight title match at Saitama, suburban Tokyo. — AFP
Dope seized
Patiala, June 26
The seizure of a large quantity of dope from a hostel of the National Institute of Sports (NIS) today morning has opened a can of worms for the authorities who till yet had been refusing to acknowledge the fact that the use of dope was widespread among Indian athletes.
B'minton squad
Chandigarh, June 26
The School Games Federation of India has selected a 12-member team comprising six boys and an equal number of girls to represent Indian in the 3rd Asian Schools Badminton Championships to be held at Selangor (Malaysia) from July 9 to 17.