House misled on BBMB encroachments
Ropar, July 4
Two Rajya Sabha members, Mr Kapil Sibbal and Dr D. Masthan, raised a question in the upper House on December 20, 2000. In the question the minister of power was asked to state if there was some area of land belonging to the Bhakra Beas Management Board lying unutilised in Shaheed Bhagat Singh Nagar, Raj Nagar and Nangal Dam areas.
Punjab to seek Centre's help on power front
Chandigarh, July 4
As problems on the power front continue to multiply, the Punjab Government has decided to approach the Centre for help.


Lok Bhalai Party to contest 90 seats
Amritsar, July 4
The Lok Bhalai Manch, headed by Mr Balwant Singh Ramoowalia, has decided to contest 90 Assembly seats during the forthcoming elections. This was disclosed by Mr Ramoowalia while addressing a press conference here today.
Encroachment threatens Harike
Patiala, July 4
Roosting spots of migratory birds in the Harike wetland in Ferozepore are being destroyed by uprooting of 20 to 30 feet high elephant grass in the wildlife sanctuary by a religious organisation thus threatening to upset the fragile eco-balance of the wetland.
Ex-minister fined for using more power
Jalandhar, July 4
Punjab State Electricity Board authorities imposed a fine of Rs 39,720 on a former Congress minister for using more power than a sanctioned load of 5 kw here today.
47-crore plan for enclave in Jalandhar
Chandigarh, July 4
The Punjab Urban Planning and Development Authority has realised a Rs 47.68 crore scheme by inviting applications for the first enclave of Chotti Baradari measuring 55 acres in Jalandhar.
Breathalysers for 23 police districts
Amritsar, July 4
The traffic police, under Mr Rajesh Jaiswal, the newly appointed SP (Traffic), has introduced breathalysers to put a check on drunken driving. Mr Jaiswal, while talking to mediapersons here today, said two equipments of the device had been provided to all 23 police districts in Punjab.
Village bridges face monsoon on slaught
Pathankot, July 4
The recent heavy monsoon poses serious threat to stringer bridges built over the rivers at Kathlour and Khojki Chak which are about 4 km away from the Indo-Pakistan border. At least 34 villages falling in the belt along with the Indo-Pakistan border will be marooned, if the bridges are washed away due to flash floods.
Funds released for development work
Gurdaspur, July 4
Mr Parkash Singh Badal, Chief Minister, during a sangat darshan programme in Batala presented a cheque of Rs 1 crore to the local municipal committee and granted Rs 2.55 crore to 91 panchayats of the constituency to pursue development activities.
Police, NGOs to work jointly in Punjab
Phillaur, July 4
The Punjab Government has formed the Punjab Police State Apex Committee for NGOs under the community policing programme. The Director-General of Police, Punjab Mr Sarabjit Singh, will be the patron of the committee.
Thermal plant generates 13,774 units of power
Bathinda, July 4
The local unit of Guru Nanak Dev Thermal Plant has produced 13,774 lakh units of power in the first six months of the year 2001, although the target for the period was fixed at 12,750 lakh units.
2 jawans cleaning AK-47 killed
Amritsar, July 4
Two Home Guard jawans were killed on the spot while their companion sustained bullet injuries when their AK-47 went off accidentally in the Home Guard complex here today.
CPI condemns closure of spinning mill
Bathinda, July 4
The CPI has condemned the closure of the Punjab Spinning Mill here. In a joint press note issued here today, Mr Hardev Arshi, MLA, and Mr Jagjit Singh Joga, district general secretary of the party, said politicians, bureaucrats besides the owners of the mill were responsible for the sale of the mill.
90 SGPC employees confirmed
Amritsar, July 4
After reverting 45 employees, Mr Jagdev Singh Talwandi, President, SGPC, confirmed as many as 90 employees today.
Charge baseless, says IMA
Hoshiarpur, July 4
The Indian Medical Association, Punjab, has condemned some Punjab Government officials for blaming the IMA causing hindrance to the implementation of the PNDT, Act regarding the eradication of female foeticide.
Agricultural marketing to be made 'scientific'
Chandigarh, July 4
The Central Government will soon be developing a scientific system of agricultural marketing to encompass the entire value chain, including storage, grading, packaging and marketing of crops. This was stated by Mr J.N.L. Srivastava, Secretary, Department of Agriculture, Government of India, at the open house and panel discussion on WTO organised by the Mahatma Gandhi State Institute of Public Administration, Punjab, here today.


Women taking to smuggling drugs
Bathinda, July 4
An increasing number of women are taking to smuggling narcotics in the Malwa region of Punjab. The district police has waged a war against the latest modus operandi of the smugglers in the region whereby the fair sex is being used for unfair activities.
4 of marriage party die in mishap
Gurdaspur, July 4
Four persons died on the spot and six were injured when the Maruti van carrying them rammed into a tree after hitting a car coming from the opposite direction at 8.30 pm last night near Ale Chack, 3 km from here. The van was carrying marriage party and was on its way from Ganji village to Hardobathwala village.
Two lovers commit suicide
Jalandhar, July 4
Perturbed over the non-acceptance of their love affair by society, two Adampur-based lovers allegedly committed suicide by consuming some pesticide at Naulli village here today.
Bid to rob bank, 3 held
Mansa, July 4
The Bhikhi police has arrested Sewak Singh Bir, a postgraduate and Punjabi poet, tried to commit theft with the help of his two accomplices to generate funds for development of his village.


ITI students hold rally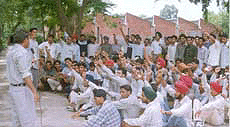 Bathinda, July 4
Students of the ITI here held a rally and sat on a dharna on the premises of the institute to press the authorities to fulfil their demands. The students demanded a roll back in the recent fee hike.

ITI students hold a rally to protest against the fee hike in Bathinda on Wednesday. — Photo Kulbir Beera

Merger of dept evokes protest
Amritsar, July 4
Students of the Physiotherapy Department of Guru Nanak Dev University took out a march in protest against the proposed move of merger of the department with the Department of Physical Education.
GND varsity scheme for poor students
Amritsar, July 4
Guru Nanak Dev University today decided to allot five seats in each course to the colleges affiliated to it so that poor students could get education free of cost. This decision was taken at the meeting of principals, chaired by Dr Harbhajan Singh Soch, Vice-Chancellor, here, today.
Course on English concludes
Jalandhar, July 4
A month-long course on "English speaking and writing" concluded at local Lala Jagat Narayan DAV School here today. More than 100 students participated. According to Prof Ashwini Syal, a ninth class student Samir Sharma topped the list of successful students.
Salaries not paid to 80,000 teachers
Fazilka, July 4
Due to reported wrangles in the Education Department, Punjab, around 80,000 teachers and other employees working in 18,000 primary, middle, high and senior secondary schools of Punjab have not been paid salaries for the month of June this year.
DEO inspects schools
Bathinda, July 4
Mr Major Singh Sandhu, District Education Officer (S), today inspected different schools of the district without prior notice.
Non-teaching staff's plea to govt
Barnala, July 4
The Private Colleges Non-teaching Employees Union, Punjab and Chandigarh, has urged the Punjab Government to stop giving the union a "stepmotherly" treatment and redress grievances of non-teaching employees serving in the private colleges of Punjab and Chandigarh.
College to hold seminar
Patiala, July 4
A seminar will be organised in Government College for Girls to mark the World Population Day on July 10 here. Mr Jasbir Singh Bir, Deputy Commissioner, will be the chief guest on the occasion. The seminar will be organised under the aegis of the District Red Cross Society, the Family Welfare and Population Control Society and the Health Department.