THE TRIBUNE MAGAZINES
On Mondays

On Sundays
On Saturdays
Hurriyat to be invited
Islamabad, July 6
Overriding strong objections from India, Pakistan today said Hurriyat leaders would be invited at the reception hosted by its High Commission in New Delhi on July 14 in honour of President Pervez Musharraf.
Don't 'embarrass' host
New Delhi, July 6
Union Home Minister L. K. Advani today literally took the bull by the horn when he commented on Pakistan President Pervez Musharraf's desire to meet Hurriyat leaders during his forthcoming visit to India saying "guest should not act in a manner which would embarrass the host."
Pak-trained ultras held with RDX
New Delhi, July 6
Just eight days before the visit of Pakistan President General Pervez Musharraf, the Delhi police has arrested two Pak-trained terrorists with RDX and timer devices which was to be used for causing explosions in the Capital.
In Sports Tribune Today
In Windows today
IN PASSING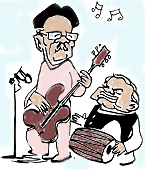 A rehearsal for the Agra concert!

by Sandeep Joshi
'Drop box' visa facility on cards
New Delhi, July 6
Frequent fliers from Punjab to the USA could soon avail the "drop box" facility in the state, if the system introduced in the Capital is successful.
Hindujas out of AI bid
New Delhi, July 6
The government tonight disqualified Hindujas from the race for acquiring stake in both Air India and Indian Airlines, making the Tata-Singapore Airlines combine as the sole bidder for India's international flag carrier while the privatisation process for IA has been rendered infructuous.
Review Naga truce plan: CMs
New Delhi, July 6
Assam and Meghalaya Chief Ministers today met Prime Minister Atal Behari Vajpayee and demanded the review of Naga ceasefire extension in other North-Eastern states beyond Nagaland in the wake of increasing tension.
Service rules on age, pay flouted
Appointment of dental college Principal
Rohtak, July 6
Violating rules and its own decisions, the government has appointed 64-year-old Dr (Brig) Suresh Chand Anand (retd) as Principal of the only state-owned dental college in Haryana.
PSGPC 'must be on summit agenda'
July 6, 2001
Karunanidhi freed on 'humane grounds'
July 5, 2001
Centre warns Jaya govt
July 4, 2001
Karunanidhi not to seek bail
July 3, 2001
Tamil Nadu Governor resigns
July 2, 2001
Karunanidhi held in pre-dawn swoop
July 1, 2001
Flexibility, but no compromise on basics
June 30, 2001
Chohan's remarks unwarranted
June 29, 2001
Punjab caught on sticky wicket
June 28, 2001
Pak army drawing up agenda
June 27, 2001
Radicals to be detained
June 26, 2001