Bhutta chat
Ingredients:
Corn cobs 6
Potatoes 200 gm
Onions 2
Cucumber 1
Tomatoes 2
Coriander leaves 1 bunch
Tamarind juice 2 tbsp
Sugar 4 tsp
Cumin powder 1 tsp
Chat masala 1 tsp
Salt to taste
Method: Boil corn cobs and potatoes for 10 minutes. Scrape off the com. Peel and dice potatoes into small cubes.
Heat oil and fry chopped onions till transparent. Add chopped tomatoes, cucumber, chillies and coriander leaves and stir for sometime. Add corn and potatoes. Add cumin powder, salt, chat masala and sugar. Mix well. Finally, add tamarind juice.
Corn pulao
Ingredients:
Rice 2 cups
Corn cobs 2
Curd 250 gm
Milk 250 gm
Oil 1 tsp
Lemon juice 1˝ tsp
Salt to taste
Method: Wash and clean rice and soak for sometime. Scrape corn from the cobs and boil in salted water till tender. Cook rice in salted water till half done and remove from fire. Now add curd and lemon juice and cook rice till done. Drain out the extra water. Heat milk in another vessel and add rice and corn to it and cook till the pulao is ready to be served.
Corn cutlets
Ingredients:
Corn cobs 5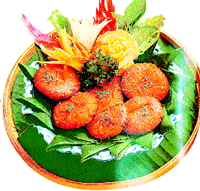 Potatoes 400 gm
Onion 1
Cornflour 1 tsp
Oil 2 tsp
Milk 2 cup
Bread crumbs 3 tsp
Coriander leaves 1 bunch
Salt to taste
Green chillies 4-5
Method: Wash and scrape the corn from the cobs. Heat oil in a pressure cooker added chopped onion and fry a little. Add green chillies and cornflour and stir for 1-2 minutes. Add milk and corn and pressure cook for sometime. The mixture should be dry. Boil and mash potatoes and add salt, pepper and coriander leaves. Mix this in the corn mixture and shape into cutlets. Dip in cornflour batter and roll in bread crumbs and fry the cutlets. Serve hot with mint chutney.
Corn pudding
Ingredients:
Corn cobs 3
Milk 500 ml
Egg 1
Sugar 3 tbsp
Sultanas 20 gm
Method: Boil corn cobs and separate corn. Grind it in a mixer by adding a little milk. Add rest of the milk and cook till it becomes thick. Remove from fire and add well beaten egg, sugar and sultanas. Mix thoroughly.
Pour into a pie dish and bake till golden brown. Chill and serve.