Sunday, July 8, 2001
Article
They make their own road
Roopinder Singh
IF you thought that off-roading on big four-wheel drive vehicles was one of the last cigar-chomping male bastions, you were wrong because among the smoke, grime, oil stains and beautiful off-road vehicles painted in "tiger stripes" that had come to India recently, were a few women and some of the cigars had lipstick marks on them! There were 10 women and they make their own road, both literally and figuratively.

A challenge for men, women and machines.
Photo by Robi Kastro

Why go over a bridge when you can go under it!
Photo by Robi Kastro
Off-roading is a macho sport, in which mighty machines roar as they tackle boulders and slush. It's a test both for man and machine, and this time the mighty Himalayas were the venue of one of the major off-road events in the world, the Isuzu Challenge, which finds new lands to explore every year. It is not a competition, but rather an expedition involving navigational and educational challenges.




Iris Bezalel Zisserman: Women have patience, men use force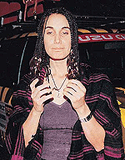 Tami Shemesh Krizt: People
are so friendly


Dorit Shtark: I have big muscles!


Ranin: They look after me


Yale Levy: I am better than
a lot of men
This is a long and arduous journey. Starting from Rishikesh, the 62-member event wound its way through a tough terrain to the highest memorable areas in the world, crossing the Khardung La on to Leh. It is a largely Israeli event, though there are some international participants as well.

Many had gone through a rigorous selection process in which 50 participants were shortlisted from over a thousand applicants, and after two days of trials— in which they faced physical challenges (such as moving through fire, climbing, snorkelling, etc) as well as social situations—15 were selected.
They were professionals in their regular life, balancing the tricky family and career equation, but that was not all. When these women decided to play, they played hard.
Iris Bezalel Zisserman (40) says she surfs in summer, loves challenges and swimming. "It's very important for me to feel life, to do things and to feel nature." She was very glad to participate in the event because it is a challenge to go to this height. "When I heard about it my husband said: 'OK, its right for you. You will enjoy it.'"
Most husbands would want to go for such events themselves. How come her husband let her go instead? "He knows me. He knows that every vacation I am pushing him to go to another challenge." Asked about being one of the few women among so many men, she contends that women can solve any problem in a different way and sometimes, being in a minority, it is difficult for women to stand up for their rights and do things the other way.
Iris says her greatest strength as a driver is that being a woman she has patience and uses her ability to solve problems, whereas men tend to use force. "Women think more, contribute to the atmosphere and have more colour!" What is women's greatest weakness? Awareness about cleanliness. They want to get a shower at night, "but we are getting used to (doing without) it."
On the first day near Rishikesh, the participants had to carve out a road and move the boulders away. To everyone's surprise, 34-year-old Dorit Shtark joined the men and was heaving the stones aside. This Jerusalem-based financial manager is a strong woman, indeed. "I am a man in a woman's body," says this mother of a 12-year-old and 10-year-old, laughingly.
The challenge, she feels, is also with regard to the social aspects. "You meet a bunch of 50-60 persons whom you have never met before and within three days you tend to share a lot of information about yourself that you never thought you would reveal. You have a brother, a sister, a new family for three weeks."
"I work for this big company only with men. You learn to survive with men. I have big muscles! When we moved stones near Rishikesh, they couldn't believe that I could do it. It's very hard to move a stone, but you gotta do it, you got to do it."
"I came to India with no expectations," says Tami Shemesh Krizt. "I only had my personal problems; I was afraid of heights and wondered how I would get along with people and all that. I saw the nature here and I said wow! People are so friendly, especially in the villages. There is something so innocent about them. I am in love, a woman in love," says the person, who is well-known in Israel for her feminist writing.
"I love being surrounded by macho men," she adds smilingly, "and now I have an excuse! They treat me like a lady and there's very special dynamics between the people because we are all strangers to each other."
Does she miss her family and her children? Not as much as she thought she would. "I thought that I would be homesick, though I don't know, I am in a different world and I have so much to do all day. I miss them less than I expected…but don't tell them." She would want to bring her children to India some time, but not now since they are just five and three at the moment and would not be able to appreciate the sights and the difference.
Yale Levy, 24, maintains that she manages to get more done than men. "I drive real good. They all say that I drive well, though I really don't need them to say it, I know that I am better than a lot of men! I find the social interaction a challenge since you have to live with new people. But they are great people and India is a great place, says this journalist who writes for Maariv, one of the biggest newspapers in Israel.
Does Ranin, as the youngest member of the team, get any special privileges? "Many of them have daughters my age and they all look after me," says this 20-year-old student who plans to major in art. She has been involved in all kinds of activities, including participating in live chats daily on Israel Online.
The men and women often take a break together and what better way to do so than the impromptu dance sessions where the whole group dances to popular music. These people know how to work hard and to play too.
Is having women on such an arduous expedition a new phenomenon? No. Zeev Dar, who has organised such events the world over , says that there have always been women on the various Isuzu Challenges in other countries. We like women to come in and some have been better than others, just like men, they are people, too, you know!"
Portrait photos by the writer
Event photos by Robi Kastro