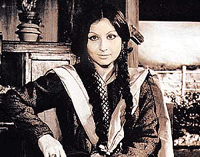 Sharmila Tagore in Mausam
The Lata-Madan team became a perennial favourite with music connoisseurs. Their association yielded the most bountiful treasure trove of songs such as Sanwari surat man bhaiye, Preetam meri duniyan mein, Bari barbadian le kar meri duniyan mein pyar aaya, Tum chaand ke saath chaley aao, Chaand madham hai, Tum ho saath raat bhee hasen hai ab to maout ka bhee gham nahi hai, Mukh mor na lena sajana, Sitaroon se poochho, Hamare baad ab mehfil mein afsane bayan hoongey, Jab aane wale aate hain, Hum pyar mein jalne walo ko, Meri veena tum bin roye, Bairen neend no aaye, Un aankhon mein neend kahan, Youn hasraton ke daagh, Aap ki nazron ne samjha, Hai isi mein pyar ki aabroo, Tere bin sawan kaise beeta, Sajana lagan teri sone na dey, Ruke ruke se kadam, Mushkil hai jeena, etc. His songs bring that rare tear to the eye and a nostalgic lump to the throat. Madan Mohan extracted elixir for his enchanting tunes from Lataís throat. For Madan Mohan no other female singer existed beyond Lata. Other singers were envious of his preference for Lata.
If Lata dominated Madan Mohanís music, it was because the stress he placed on perfection. There was no composer more difficult to please at recordings than Madan Mohan. Lata recounts an episode that took place during the recording of Naino mein badra chhaye... "I was rehearsing before the mike. Madan bhaiyya was angry at some of the musicians who were playing off key. There was a door in between. He sprang lividly towards the musicians enclave. Instead of opening it, he hit the glass with his hand. He was bleeding profusely but went on to shout, ĎBesure bajatey ho. Sur ke saath beimani karte ho. Sharam nahin aati tumkoí." Not only Lata, but Talat Mahmood and Mohammed Rafi suited Madan Mohanís compositions to perfection. The ghazals sung by Talat Mahmood under the baton of Madan Mohan have acquired a vintage value as in their rendition, Madan Mohan skilfully and effectively employed Talatís vocal modulation and appealing articulation to under-score an actorís brooding intensity in ghazals like Meri yaad mein tum na aansoo bahana, Yad jab aaye teri, Main pagal mera manva pagal, Mera qrar leja, Do din ki mohabat mein humne, Hum se aaya na gaya tum se bulaya na gaya, Mohabat mein kashish hogee to ek din tum ko pa lenge, Bereham aasman meri manzil bata hai kahan, Phir wohi shaam, Teri aankh ke aansoo pee jaoon, Tum hi to meri duniyan ho, Tum juda ho kar hamen kuchh aur pyare ho gaye. Rafi, too, was excellent in songs like Hum ishq mein barbad hai, Tujhe Kiya sunaoon ay dil ruba, Kabhi na kabhi kahin na kahin, Sawan ke mahiney main ik aag see sene mein, Yeh duniya yeh mefil mere kaam ki nahin, Barbad mohabat ki dua saath liye ja, Meri awaaz suno, Main yeh soch kar uske dar se uthha thha, etc. When Madan worked with Mukesh, we got a song like Bhooli hui yaddon mujhe itna na sitao. When Madan summoned Manna Dey, we heard something so enduring as Kaun aaya mera man ke dware. For Kishore, he had something aptly frisky like Zaroorat hai ik shreemati ki, kala wati ki. Asha in Jhumka gira re and Geeta in Ay dil mujhe bata dey tu kis pe aa gaya hai gave their best under the baton of Madan Mohan.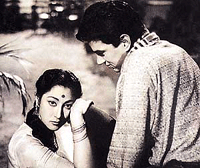 A scene from Anpadh
Madan Mohanís quest for lyrical perfection was as great as his search for excellence in compositions. Wordsmiths like Rajender Krishan, Raja Mehdi Ali Khan, Kaifi Aazmi, Sahir, Majrooh Sultanpuri etc., toiled tirelessly to portray the trials, turmoils and tribulations of the protagonists in their lyrics. Madan Mohanís composition had the perfect blending of words, melody and the correct choice of instruments. Madan Mohan established his distinct musical identity which commanded instinctive respect from music lovers. It goes to Madan Mohanís credit that he never settled for anything less than perfect in pursuit of popularity. Even when he could have had dozens or more films, he resisted the temptation so that he could maintain the standard of his compositions. There was a general misconception that Madan Mohan was only good at composing ghazals. Madan Mohan could handle varied genres of music. Whenever filmmakers put him into any complex situation, he always emerged triumphant. Nothing was difficult for him, no theme was too large and no project too small for his prodigious talent. Be it a patriotic song Kar chale hum fida jan-o-tan sathio or a classical number Dukhiare naina dhoonden piya ko nis din karen pukar, or a bhajan Preetam daras dikhao or a qwalli Kabhi ay haqiqat-e-muntazar nazar aa libas-e-majaz mein or a lullaby Ladle so jaa or a song like Sawan ke mahine main ik aag see seene mein lagti hai to pee layta hoon or a fun number Surma mera nirala.. Madan Mohan always gave abundant evidence of his acumen. Excellence was always Madan Mohanís aim and goal.
Madan Mohan breathed his last on July 14, 1975 at Chetan Anandís home while working on the music of Salim-Anarkali which was ultimately shelved. Madan Mohan is not with us today but his lilting, soothing and melodious compositions continues to enthrall music lovers. The appeal of his songs is eternal and their freshness undiminished by time.