Sunday, July 8, 2001
Movie Magic
Aamir owes it all to Allah
Madhur Mittal
OKAY, the guy has every reason to freak out, considering the (super) success of Lagaan, right? Just about everybody, including our Prime Minister, Mr Vajpayee, is all praise for the film and most readily willing to sit through 4 hours of the megamovie!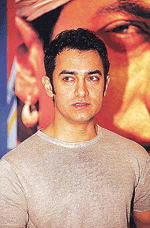 Aamir's hard work has been rewarded
Happy and smiling from his one (big) ear to the other, Aamir says he has to thank Allah for rewarding his genuine, hard work with His blessings. "I had faith in Him. I just instinctively knew that He wouldn't let me down. On my part, of course, I honestly put in every single drop of my blood, sweat and tears to ensure that Lagaan would appeal to the people so much that it would blast the box office, see? And it's really happened! What more can I ask of The Almighty, huh? He's already given me everything — chhappad phaad ke!"
Deol dizzy
On the other hand, Sunny Deol, whose Gadar was running neck and neck with Lagaan, is in a dizzy tizzy today, what with the Muslim community protests and demands to ban the picture altogether! Deol has been running from pillar to post and trying to enlist the support of cine celebs in a (desperate) measure to save his film...
"There is absolutely nothing controversial in the contents of Gadar. In fact, it is a sincere representation of the needless wary feelings between Hindus and the Muslims. All these protests and anti-Gadar demonstrations are politically motivated...and, believe me, I suspect that those crying for a ban, have probably not even seen the movie in the first place!