Sunday, July 8, 2001
Sunday Activity
Short cuts to caring for cut flowers
PICK flowers early in the morning or in the evening — they will last longer. Avoid picking flowers in full bloom. Half-opened buds are the best.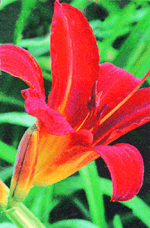 Strip leaves off before arranging cut flowers
Carry cut flowers with heads down and, if possible, enclose the stems in a plastic bag to keep in the moisture.
Plunge flowers in water Freshly picked or bought flowers (still in their wrappings) will keep longer if they are plunged in a bucket or sink of water right up to the flower heads. Leave for at least one hour, longer if possible, overnight is ideal. Avoid crowding the flowers together.
For a handy flower holder, use crumpled wire or a cut potato. You can even use a few large hair rollers.
Keep flowers water sweet by putting a piece of charcoal in the water.
Standing in hot or boiling water is particularly recommended for woody stems, and for roses, bluebells, clematis, hollyhocks and hydrangeas. Protect delicate petals from the steam: put the hot water in a bucket, cover with tissue paper or newspaper and punch holes in it. Insert the flower stems through the holes and fold the paper over and pin into place. Limp flowers may revive if you trim their stems by 1 cm/1/2 inch and then plunge the stem ends into boiling water. A soak under hot water will stiffen most foliage. Leave overnight then drain on newspaper. Do not soak grey-coloured foliage.
Buying flowers: Do not choose any that have been standing in the sun. Stems should be freshly cut, not slimy or dark in colour. Avoid buying spring flowers such as tulips, if the petals are a little transparent, and avoid any flowers if the pollen is dropping.
Keep vases scrupulously clean: Sterilise them with a weak solution of household bleach. Water in glass vases becomes foul more quickly, than say china, because sunlight hastens bacterial activity.
Strip leaves off before arranging flowers; leaves under water in a vase will make it foul.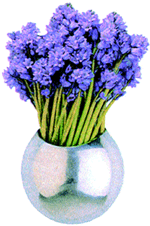 Sterilise a vase with bleach
Wild flowers: Only pick from places where they are plentiful. Use scissors to cut the flowers, do not tear stems. Shake off any moisture and place heads first in a polythene bag. Blow into the bag and do up with a rubber band. Alternatively, wrap the flowers in a newspaper, covering the heads. When you get home, trim the stems slightly and plunge into tepid water up to the heads.
Flower arrangements should be kept out of the full sun, away from fires and radiators. Never place flowers or plants on top of your television—they don't like the heat and the water is dangerous. Also avoid strong lamps (because of the heat) and draughts. Some flowers such as carnation do not like being near fruit. Spray flower arrangements at night, or cover them with damp muslin. They will last longer if you change the water regularly.