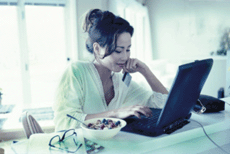 If the user is a traveller who requires the frequent use of an optical media drive such as DVD ROM or a CD ROM, then he would need to sacrifice the light-weight model and opt for a 2-spindle design machine instead. Considering today's current operating system requirements, a machine equipped with 64 MB will be sufficient for basic use at home or in the office.
It is good to select an all-in-one notebook such as the IBM ThinkPad A20 with all devices built-in, as it will save the hassle of swapping devices. However, where weight is concern, a two-spindle or one-spindle design would be ideal when weighing the importance of having an optical media drives in your system all the time.
Another lightweight model is the HP Omnibook 500 notebook PC, an ultra-thin notebook PC designed for highly mobile individuals. This versatile notebook has full desktop capabilities and is wireless-ready. It is also ergonomically designed. The notebook is about one-inch thick, weighs approx. 3.5 lbs and comes with a 12.1 inch XGA active matrix screen.
Notebooks with special features
The choice of a notebook for someone who travels a lot and hence requires a road warrior type of notebook would be the IBM ThinkPad T20, which comes with the ThinkLight, that lights up the ThinkPad in areas with low lighting, for example during flights. In yet another case, someone who performs numeric intensive work will require a notebook with high-computing power and memory such as the latest IBM ThinkPad A22m with the new 1 GHz chip. Or perhaps another worker who needs to work both from home, as well as from office could require a notebook that is high in flexibility and options.
Other market players are also making sure they have notebook models that are able to accommodate various user needs. HP offers a range of notebooks that are worth considering.
HP OmniBook range of notebooks are designed to accommodate different users needs such as the OmniBook 6000 series, which has a large display, 15-inch or a 14.1-inch screen. Plus the HP OmniBook 6000 product line allows users to interchange a variety of devices across two platforms – including CD-RWs, DVDs, LS-120s, and memory and power adapters.
HP OmniBooks are equipped with wireless LAN connectivity and are accessible through the HP and Lucent co-branded 802.11b LAN PC Card and access point allowing users to stay wirelessly connected throughout a building or across a corporate campus. In addition to this, Wireless Personal Area Networks are designed to simplify short-range device-to-device connectivity through Bluetooth technology with a HP and 3Com PC card.
The uniqueness of Dell's direct, build-to-order model allows it to design notebooks specifically for different customer groups, which can be configured further to individual specifications. Dell designs its Latitude notebook line for customers who value a low total cost of ownership (TCO), a consistent and reliable product, managed technology transitions and optimum performance in a connected environment. It offers a wide range of notebooks targeted at the varying requirements of large corporate, institutional and government customers.
The Dell Latitude L400 ultralight portable features Intel's low voltage mobile Pentium III processor at 700 MHz. At just 1.56 kg and only an inch thick, it is wrapped in a durable magnesium alloy cover that will easily handle the most rigorous business traveller's schedule.
Another choice from Dell is the Dell Latitude C800 performance desktop-replacement portable that features the 850 MHz and 1 GHz mobile Pentium III processor and 15-inch displays. It has a highly configurable platform, offering the choice of CD ROM , DVD or CD RW as the fixed optical drive, freeing the media bay for one of many media modules, allowing the use of a CD ROM and CD RW drive simultaneously.
The c800 model comes with a combination of high-speed wireless connectivity and robust graphics capability and IEEE 1394 port, useful for attaching digital cameras and other video devices to the computer. It is therefore ideal for graphic illustrators, designers, database developers or Web site builders who require mobility and constant access to the Internet or a company's intranet infrastructure.
Additional items of importance
Some users would like to have an extra AC adapter, one in the office and the other in their bag to be brought to other locations such as the home, customer location, abroad or any other place. An additional battery would be helpful in areas without access to power sockets.
A port replicator is required for cable management. Users intending to utilise all external attachments would appreciate how much time they would be able to save by using this. A docking station is the same as a port replicator but with greater expandability. Another very important item to look out for while buying a notebook is warranty.
Make sure you check the warranty period, as notebook components are expensive to replace. The coverage area is also important. Imagine if you were going overseas with your notebook only to find out that the vendor in that country cannot support it should some repair work be necessary, because the vendor does not even exist in that country.
Today's trends
Palmtops and visors are certainly trendy items to have, but their functionality compared with a notebook PC is not as advanced. They are not seen as a replacement for notebooks. However, notebooks have become smaller. They already come in various sizes such as A4 and B5 (very popular in Japan), which are the preferred choice of road warriors because of their ultra- portability, such as in the featherweight ThinkPad X20.
It is the user preference and requirement of the device that will define the choice of purchase for these gadgets. We do not see these alternatives replacing the notebook but merely acting as a complement to the notebook for several reasons.
For example, some users prefer a bigger screen when surfing the Net and currently these alternatives do not have the same exact features and benefits as the notebooks.
The future of the notebooks is headed towards lighter weight and higher battery life. The aim is to create a notebook that weighs as little as possible. Yet, it can last an entire day or more on battery power, and is powerful enough to benefit employee productivity, as well as comfortable enough to type using the keyboard, and also in viewing the screen.
Such factors will determine how small a fully functional notebook can become. The form factor will be limited by its screen and keyboard sizes. Nevertheless, we can expect future mainstream battery technologies to provide less weight and more power per cell, just as LCD manufacturers will concentrate on the quality of the LCD displays in future, rather than the size for a better user experience.