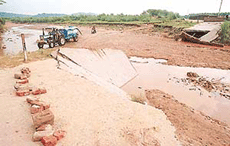 The washed away causeway on the Patiala Ki Rao in Nadda village.
— Tribune photo Parvesh Chauhan
Rains bring misery for villagers
Nadda (Kharar), July 10
Come rains and studies of children of this village suffer! Reason: There is no bridge on Patiala Ki Rao, a seasonal rivulet which passes by the village. Children who go to nearby villages or Chandigarh for schooling are forced to miss the school. Even the routine work at the village school suffer as the teachers could not make to the school in time. And of course, people working in Chandigarh either take leave or get late.
Mayor calls on Governor
Chandigarh, July 10
The Mayor, Mr Raj Kumar Goyal, who met the Punjab Governor and UT Administrator, Lieut-Gen JFR Jacob (retd), today apprised him of problems in Sector 26 grain market and urged him to visit the area in the near future. He also took up another pertinent issue of issuance of no objection certificates in Mani Majra.
Panchayats urged to achieve targets
Panchkula, July 10
The Gram Panchayats have been urged to play an enthusiastic role to achieve the target of afforestation in the district. This was stated by the Deputy Commissioner, Ms Jyoti Arora, at a Khula darbar held in Raipur Rani, near here, today.
FAUJI BEAT
Training of recruits revamped
Chandigarh
A perceptible change in the national security scenario following the nuclearisation of the Indian Sub-continent besides heavy commitments towards counter-insurgency operations and low level conflicts have necessitated a revamping of the basic training for Army recruits.
FENG SHUI TIPS
Energising the wood element
There are five elements which govern our environment. These are water, wood, earth, fire and metal. Every element has its own importance in everyone's life. One of these elements rules the left of a particular man. It is decided according to one's date of birth and year. From this, one can know the element that is good for one's personal space in an office.
French company gives presentation
Chandigarh, July 10
A French company, Electricite de France, gave a presentation to a high-level team of the Chandigarh Administration led by the UT Administrator, Lieut-Gen J.F. R. Jacob (retd), regarding reduction of transmission and distribution losses on a revenue sharing basis.
A man with a mission
Chandigarh, July 10
Mr Dilip Kumar is a man with a mission. After creating a record for covering maximum distance on foot in the shortest possible time, this dynamic man from Mumbai is all set to create his second record by flying 1200 kites through a single string and all for a good cause too — to spread the message against drug use. He has planned to set a record at the Rose Garden here on Sunday.
125 persons donate blood
Chandigarh, July 10
As many as 125 persons donated blood at the 47th blood donation camp organised by the Chandigarh Blood Donors Council at bridge market, Sector 17, today. The camp was organised in the memory of Mr Yogesh Sood's daughter, Shruti, who died in a roof collapse six year ago.
Bhatnagar released
Chandigarh, July 10
Major Maneesh Bhatnagar, who was sentenced to dismissal for violation of military discipline during the Kargil conflict by a General Court Martial yesterday, was released from military custody today.