Opening land route dangerous
Security agencies say move populist
Amritsar, July 10
Intelligence and security agencies are apprehensive about the opening of land route to Pakistan and feel it is a populist move to catch Muslim votes. Such a step may jeopardise the security of the country as it will facilitate espionage activity at the behest of the Inter Services Intelligence.
In Health Tribune today
THE TRIBUNE MAGAZINES
On Mondays

On Sundays
On Saturdays
Charges framed against Sukh Ram
New Delhi, July 10
Almost five years after the raids by the CBI and seizure of cash and property worth more than Rs 6 crore, a designated court here today framed charges against former Communications Minister Sukh Ram.
Dasgupta dead
Kolkata, July 10
Veteran Marxist leader and Chairman of the Left Front Sailen Dasgupta (82) died in a Mumbai hospital tonight after a protracted illness.
CBI seeks nod to prosecute Laloo
Patna, July 10
The CBI has sought the Governor's permission to prosecute former state Chief Ministers Laloo Prasad Yadav and Dr Jagannath Mishra, along with 72 others, in connection with a fresh conspiracy angle case related to the multi-crore-rupees-fodder scam.
IN PASSING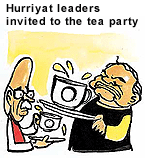 Atalji, do you think we can stop this storm in the tea cup?
by Sandeep Joshi
The missing War Diary
Chandigarh, July 10
A controversy has arisen over the alleged mishandling and mispossession of highly classified operational documents by some officers of the Leh-based 3 Infantry Division.
Labourer kept in chains
Rescued by social workers
Fatehabad, July 10
In an act of sheer barbarism, a farm labourer was kept as a bonded labourer with his hands and legs chained by a land owner at Lamba village in this district. The poor man was rescued by social workers with the help of the local administration.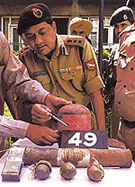 RDX found on yatra route
Srinagar, July 10
The BSF today foiled an attempt by militants to trigger explosions and disrupt the Amarnath yatra with the recovery of 14 kg of RDX from the Srinagar-Baltal route, the main route to the cave shrine, a BSF spokesman said.

A senior BSF officer inspects an IED fitted in an LPG cylinder, recovered by the troops in Rainawari locality of Srinagar on Tuesday. — Photo Amin War

Kashmir not sole issue: PM
July 10, 2001
PM to brief all-party meeting today
July 9, 2001
Musharraf softens stand
July 8, 2001
3 Army men killed in ambush
July 7, 2001
PSGPC 'must be on summit agenda'
July 6, 2001
Karunanidhi freed on 'humane grounds'
July 5, 2001
Centre warns Jaya govt
July 4, 2001
Karunanidhi not to seek bail
July 3, 2001
Tamil Nadu Governor resigns
July 2, 2001
Karunanidhi held in pre-dawn swoop
July 1, 2001
Flexibility, but no compromise on basics
June 30, 2001