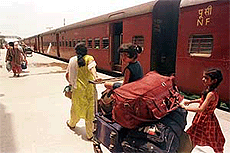 An Indian family drag their luggage prior to departure by the Samjotha Express, a train service which travels thrice a week from Wagah railway station at the border town of Wagah, on Friday. — Reuters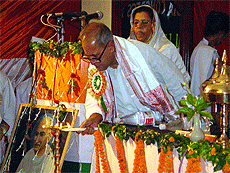 Pranab Mukherjee inaugurating a two-day political training programme for Congress workers from eastern India at Guwahati on Friday by lighting the traditional lamp.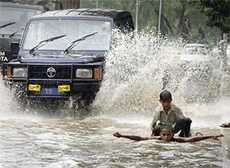 Indian boys swim through a flooded street in New Delhi on Friday. The regional summer monsoons that began last month have brought heavy rains accompanied by an intense heat wave that shows no sign of abating.
— Reuters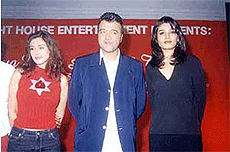 Pop singer Lucky Ali, son of legendary comedian Mehmood, makes his debut as a hero in "Kya Main Ab Bhi Tumse Pyaar Karta Hoo." Lucky Ali is flanked by heroines Lisa Ray and Raveena Tandon at the launch party in Mumbai on Thursday night. — PTI

Kin to give proof of Indian PoWs in Pak
Agra, July 13
In the face of persistent denials by Pakistan to acknowledge the presence of Indian Prisoners of War (PoWs) in Pakistani jails, relatives of defence personnel missing in action since the 1971 war today claimed they had "clinching" evidence to prove Islamabad wrong.
The only Pandit at Qazi's tea party
New Delhi, July 13
Several Kashmiri Pandit organisations have urged all other political parties to refrain from attending the tea party to be hosted by the Pakistani Ambassador during the forthcoming visit of Gen Musharraf.
TV channels vie for slice of summit cake
New Delhi, July 13
With just two days left for the all-important Vajpayee-Musharraf summit at Agra, which has also been dubbed as the "event of the year," television channels, both private and the state-run Doordarshan are vying with each other for a slice of the summit cake.
M. B. Kaushal redesignated by Cabinet
New Delhi, July 13
Mr M. B. Kaushal, an Indian Police Service officer of the 1963 batch and posted as Special Secretary in the Ministry of Home Affairs, has been redesignated as Secretary, Internal Security in the ministry.
SC notice to Sukh Ram
New Delhi, July 13
A division bench of the Supreme Court comprising Mr Justice M.B Shah and Mr Justice S N Vairava today issued a notice to the former Communication Minister Sukh Ram and others on a special leave petition filed by the Central Bureau of Investigation against a Delhi High Court judgement in the 1933-94 telecom scam case.
Lack of funds hits tree plantation
Hanumangarh, July 13
Lack of funds has affected the plantation of saplings that fall in the area under the Forest Department.