Chandigarh Youth Congress activists protest against the visit of General Pervez Musharraf, President of Pakistan, to India in Sector 17 of Chandigarh on Saturday. — A Tribune photograph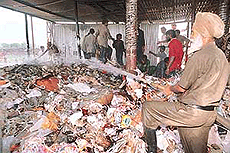 A fireman tries to control fire in the Hallo Majra Kabari market in Chandigarh on Saturday. — Tribune photo Parvesh Chauhan
Panun Kashmir seeks homeland in valley
Chandigarh, July 14
A day ahead of the Agra summit the Panun Kashmir, a body fighting for the rights of displaced Kashmiri pandits from the valley, today demanded a separate homeland in the valley while urging the Government of India to put pre-conditions on Pakistan like reversing genocide of Hindus in the valley and stop aiding international terrorism in the name of Muslim crusade.
Forum exposes Pak 'treachery'
Chandigarh, July 14
The Pakistan-India People's Forum for Peace and Democracy, Punjab and Chandigarh chapter, engaged in the people to people dialogue between the two countries, here today exposed Pakistani ''treachery and intransigence'' on the Kashmir dispute.
Legal Services Authority organises seminar
Chandigarh, July 14
The Chandigarh State Legal Services Authority organised a seminar to generate awareness among the masses at Kishangarh village here today. A press note issued by the Chandigarh Administration said Mr B.C. Rajput, member secretary of the State Legal Services Authority of Chandigarh and Judge of the Permanent Adalat, was the chief guest.
NAC status for Naya Gaon soon "by Aug 15"
Kansal (Kharar), July 14
Mr Ujjagar Singh Badali, a jathedar of the Shiromani Akali Dal (Badal), and a prospective SAD nominee from the Morinda Assembly constituency in the elections due early next year, announced here today that Mr Prakash Singh Badal, Chief Minister of Punjab, would announce a notified area committee in Naya Gaon village before August 15.
ROADSIDE ENTREPRENEURS
A job mainly for migrants
Chandigarh
In the corridor of a market at night, you get a strong aroma of spicy food and wonder who could be doing the cooking there. You look around and find a group of men in vests and lungis doing the cooking. They are rickshaw-pullers who do their eating, cooking, bathing and sleeping on the roadside.
Lucky draw not held
Chhatbir, July 14
A number of visitors were disappointed today when the zoo authorities failed to hold the "lucky draw" introduced by the Wild Life Society of Punjab to raise funds for the Chhatbir Zoological Park. The scheme was introduced to attract visitors, develop enthusiasm among them and to avoid the resale of tickets by the society six months back.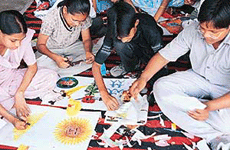 Children make a collage to raise their voice against female foeticide during the final day of the poster-making competition and workshop for school children at Arts Museum, Sector 10, Chandigarh, on Saturday. — A Tribune photograph



Raising voice against female foeticide

Chandigarh, July 14
About 100 students from various schools of Chandigarh, Panchkula and SAS Nagar participated in a poster making competition and workshop on female foeticide organised by the Voluntary Health Association of Punjab at the Arts Museum in Sector 10 here today.
Ex-servicemen's league "apolitical"
Chandigarh, July 14
Several senior retired defence officers, including Col Harsharan Singh, Lieut-Gen K.S. Gill, Brig Harwant Singh, Air Marshal K.S. Punia, Col A.P. Singh and Lieut-Gen B.S. Randhawa, have impressed upon ex-servicemen that the league was an apolitical organisation.
FENG SHUI TIPS
Helpful people in your life
Helpful people and benefactors are found in the right-hand area of your home. This area has masculine energy. It shows our tendency to travel. Helpful people are also associated with charity.
A clarification
Dera Bassi, July 14
Mohan Meakin Limited today clarified that its factory was not discharging any effluents in the tributaries of the Ghaggar and that the unit fulfilled the norms fixed by the Punjab Pollution Control Board, Patiala.