Jail staff "thick with drug peddlers"
Amritsar, July 18
While intelligence agencies have sent reports of trafficking growing prevalence of drug trafficking in the local central jail, to the Home Secretary there seems no visible action to prevent it. Hence, the drug smuggling, addiction and sale in the jail premises continues unabated as jail employees are allegedly partronise the illegal activity. Involvement of employees can be gauged from the fact that warden Paramjit Singh was booked when a drug dealer Satpal Singh revealed his contacts in the trade a few months ago.
Pak provides access to 29 jailed youths
Hoshiarpur, July 18
The Government of Pakistan had provided Indian consular access to 29 Punjabi boys who were perishing in Balon Central Jail in Baluchistan, said Mr Charanjit Singh Channi, Member of Parliament from here.
IA served with notice in hijacking case
Patiala, July 18
The Designated Judge, Anti Hijacking Act, Mr S.N. Aggarwal, today served notice to Indian Airlines for tomorrow in the Kandahar hijacking case. Arguments will also take place tomorrow on the application filed by defence counsel Brijinder Singh Sodhi demanding that he be allowed to take photograph of the plane.
99 pc pesticides remain in environment: Paroda
Ludhiana, July 18
Less than one per cent of pesticides applied to crops reach the target pest while 99 per cent of these remain in the environment and cause pollution. The information was given by Dr R.S. Paroda, Director General, ICAR and Secretary, Department of Agricultural Research and Education, Government of India, New Delhi, in his keynote address delivered at the "Symposium on biocontrol-based pest management for quality crop protection in the current millennium," which began here today.
Charge sheet against Badal govt soon: Cong
New Delhi, July 18
The Punjab Congress "charge sheet' against the Badal government will be ready by next week. The party's coordination committee on Punjab, discussed the contents of the charge sheet at a meeting here today and assigned the task of finalising it to Punjab PCC chief Amarinder Singh.


Singla heads PPCC media panel
New Delhi, July 18
The Congress high command today constituted a seven-member Punjab Pradesh Congress Media Committee with Mr Surinder Singla, a former MP, as its chairman.


Power cuts add to misery of patients
Amritsar, July 18
Insecurity lurks among the patients at the tuberculosis hospital here because of the failure of power supply to the hospital almost daily at night. The fear is confined not just among the patients; even staff nurses face a similar situation as the hospital premises spread over more than four acres of land is plunged into darkness as evening approaches.
Scholars at odds on suspension issue
Patiala, July 18
Scholars of the Punjabi Lekhak Sabha have taken different stands over the suspension of a research assistant in the Punjabi Language Department headquarters here with the President and General Secretary of the Sabha questioning the locus standi of Sabha Vice-President Tejwant Mann in demanding the removal of the Department Director, Dr Madan Lal Hasija.
'Judicial activism needed for courts'
Chandigarh, July 17
"Judges of the nineties and the Judges of today are somehow more important than the judges of yesteryear simply because they have been called upon to discharge and have fully assumed, far greater responsibilities than their predecessors."
PUDA ignoring Amritsar: manch
Amritsar, July 18
The Amritsar Vikas Manch has taken a serious note of Amritsar "being ignored" in all urban developmental schemes by the Punjab Urban Planning and Development Authority.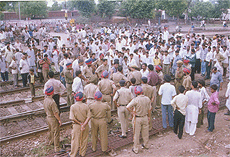 Residents of affected colonies of Bathinda block traffic at the level crossing, protesting against the accident on Wednesday. — Tribune photo Kulbir Beera

'Khooni phatak' claims another life
Residents block traffic, magisterial inquiry ordered
Bathinda, July 18
A large number of residents of trans-railway colonies today blocked rail traffic for many hours following the death of a youth, Rinku, resident of Partap Nagar, after he was crushed to death by a train today.
Army to create buffer zone
Bathinda, July 18
The sale of residential plots and the construction of houses have come to a standstill at Bhai Mati Dass Nagar here on the Bathinda-Mansa road on the orders of the Army authorities as the colony falls within the limits of the clearance zone to be created for the safety of the ammunition depot at the local military station.
Academicians' plea to save Pingalwara
Chandigarh, July 18
Two prominent academicians of Amritsar — Dr G.S. Bhalla of Guru Nanak Dev University and Mr Gurcharan Singh, a retired Principal — have urged the Punjab Local Government Department and the Amritsar Improvement Trust to slightly change the alignment of a proposed road than force the famous Pingalwara to shift to a new location.
1,000 treated at medical camp
Fazilka
The Shankar Dass Daulat Ram Nagpal Charitable Trust organised a free medical camp conducted by a team of eminent specialists. It was for the first time that specialists from a half dozen branches of medicine provided free consultation to nearly 1,000 patients.
Panchayats begin dharna
Bathinda, July 18
Panchayats of Behman Jassa Singh, Tangrali, Sangat Khurd and Teona Pujarian villages today started an indefinite dharna in front of Government High School, Teona Pujarian, after locking it to lodge their protest against the transfer of a teacher from the school without any replacement and against the non-filling of various posts lying vacant in the school.
Lawyers observe strike against police inaction
Jalandhar, July 18
More than 500 lawyers observed strike in the district courts here today in protest against the failure of the district police to arrest the son of a senior official, who allegedly misbehaved with a senior lawyer and damaged his car yesterday.
Protest rally by postal and telecom staff
Patiala, July 18
Postal and telecom employees held a protest rally in front of the head post office here today. The protest rally was held on the call of the confederation against the privatisation policies of the Central Government which included establishment, disinvestment, contracterisation, de-casualisation and downsizing the staff strength in government offices.
Congress activists hold dharna
Ropar, July 18
Congressmen today held a dharna in front of the local Secretariat against the alleged violation of the Cooperative Act by the SAD-BJP government in the forthcoming elections for the Directorate of Central Cooperative Bank Limited here. Members of various cooperative bodies associated with the bank also participated in the dharna.
Cops to return gallantry awards
Jalandhar, July 18
Families of the police officers, booked for alleged violation of human rights during decade-long militancy in the state, today demanded immediate withdrawal of these cases. The affected police personnel and their families at the first ever meeting in a local hotel here today said on condition of anonymity, that instead of receiving bravery rewards for curbing terrorism in the state, hundreds of cases were filed against them for the alleged violation of human rights.
Withdrawal of case against engineers sought
Bathinda, July 18
Members of the Council of Junior Engineer, Punjab State Electricity Board today expressed helplessness to keep uninterrupted power supply if the criminal case registered against two staff members was not withdrawn. A decision to this effect was taken in a meeting of the council held here today.
Havildar cremated with honours
Hoshiarpur, July 18
The mortal remains of Martyr Havildar Madan Lal of 8 JK Rifle who laid down his life during operation Rakshak, near Kupwara in Baramula sector of Jammu and Kashmir on July 15 were consigned to flames with full military honours at his native village Chuck Gujran, 19 km from here, today. He is survived by his wife, three daughters, one son and father.
Panel formed to expose MC bunglings
Muktsar, July 18
Representatives of various political parties, social organisations and prominent citizens formed a committee here on Monday to expose the alleged bunglings of the local municipal council in connection with the execution of various development works.
Set up agro-based industries: officer
Bathinda, July 18
Mr Harwinder Singh Bhatti, Chief Agriculture Officer, has said more agro-based industries should be set up in Bathinda as the region has adequate supply of fruits which are used as raw material.


Medical drive launched
Fatehgarh Sahib, July 18
After the publication of a news item in The Tribune about the outbreak of gastroenteritis in Sirhind and Fatehgarh Sahib, the district health authorities have swung into action following directions from the Deputy Commissioner.
PUDA to harvest rainwater
SAS Nagar, July 18
Concerned at the depleting underground watertable, the Punjab Urban Planning and Development Authority was framing a policy to harvest rainwater in urban estates. Guidance from the Central Ground Water Board, which had already initiated schemes for artificial recharging of underground water, was being taken to install roof-water harvesting structures.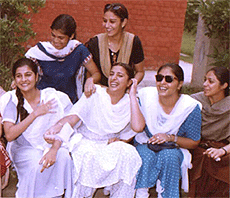 Happy moments for freshers on the Punjabi University campus in Patiala on Wednesday. — Photo Subhash Patialvi
Langah plans to control educational institutions
Chandigarh, July 18
A group of Akali leaders led by Mr Sucha Singh Langah, Public Works Minister, Punjab, is preparing to get possession of the institutions run by the Sikh Educational Society.
ETT candidates block traffic
Ropar, July 18
Unemployed ETT candidates today blocked traffic on the Sirhind Canal bridge on the Ropar-Jalandhar road for about three hours. At least 200 candidates, who were also supported by various local employees unions, were protesting against the decision of the state government to recruit B.Ed candidates against ETT posts.
College teachers hold rally
Amritsar, July 18
On a call given by the Punjab and Chandigarh College Teachers Union, the teachers of Khalsa College and DAV College, Amritsar unit, held a massive rally in front of the office of the Principal in protest against non-acceptance of their demands.