Quota for wards of Kashmiri migrants
Chandigarh, July 19
Dependents of Kashmiri migrants will now get reservation in technical institutions in Chandigarh. The Administration today said it had been decided to reserve one seat for dependents of Kashmiri migrants in the merit quota in technical professional institutions as per the instructions of the Government of India.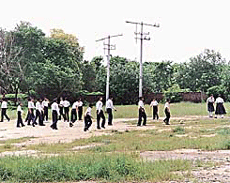 Students of Government Model High School, Sector 36, Chandigarh, play in the school ground, unaware of the danger posed by the poles standing in the ground.
Where playtime is fraught with danger
Chandigarh, July 19
Defunct telephone poles standing in the middle of a playground is a rare sight. In a school, it is even rarer. A notable case is the playground in Government Model High School, Sector 36, where children play football and other games, blissfully unaware of the threat of injury they constantly face. These poles prove to be an obstacle to the children who frequently collide with them while playing and sustain injuries. Not only this, after a strong wind and heavy rainfall, the wires on these poles scatter all over the campus.
Sanawar school petition on buses dismissed
Chandigarh, July 19
The Punjab and Haryana High Court today dismissed a petition filed by Sanawar Montessori School, along with other institutes, challenging a notice issued by the State Transport Authority directing the schools to stop the illegal operation of buses after the expiry of 15-year life span.
HIGH COURT
Summons to Vice-Chancellor on student's admission
Chandigarh, July 19
Directing Punjabi University Vice-Chancellor Jasbir Singh Ahluwalia and another respondent to appear in person for explaining the reason behind their alleged failure to comply with the court directions on readmission of a law student, Mr Justice R.L. Anand of the Punjab and Haryana High Court today issued notice of motion for August 8.
Notice to CBI in murder case
Pre-arrest bail plea dismissed
Citizens' plea for judicial court
SAS Nagar, July 19
The local Citizens Welfare Council today sought setting up of judicial courts in the town. The issue was raised at a meeting of the council held under the leadership of Mr B.S. Tej here.