Drive to register migrant labourers fails to take off
Patiala, July 25
The exercise to register all migrant labourers in the district has turned out to be a nonstarter with not a single labourer being registered in any police station in the city even though nearly one week has passed since directions were given in this regard by the District Magistrate.

2,000 crore project for roads, bridges
Patiala, July 25
The Punjab Government has devised a Rs 2000-crore project for the construction of major roads and bridges in the state. Disclosing this here yesterday while addressing youth workers at a rally organised here by youth leader Kulwinder Singh Lovely, Public Works Minister Suchha Singh Langah said two major roads which would be constructed under this project were the Gurdaspur-Mukerian road at a cost of Rs 64 crore and the Nawanshahr-Khanna road at a cost of Rs 24 crore.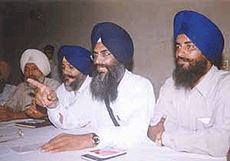 Bhai Ram Singh , General Secretary Shiromani Akali Dal (Amritsar ), addresses a press conference at Amritsar on Wednesday. — Photo Rajiv Sharma
SAD (A) to contest 117 Vidhan Sabha seats
Amritsar, July 25
The Shiromani Akali Dal (Amritsar) will contest all 117 seats of the Vidhan Sabha in alliance with the Sarb Hind Shiromani Akali Dal and the BSP. This was stated by Mr Ram Singh, General Secretary of the SAD (A), at a press conference here today. He said Mr Simranjit Singh Mann would be projected as the next Chief Minister of Punjab.
YC condemns CM's statement
Bathinda, July 25
Mr Jagpal Singh Abulkhurana, spokesman, Punjab Youth Congress, had condemned the statement of the Punjab Chief Minister, Mr Parkash Singh Badal, in which he had stated that Capt Amarinder Singh, President, Punjab Pradesh Congress Committee, required lessons in basic public decency.


SSP justifies lathi charge
Bathinda, July 25
Dr Jatinder Kumar Jain, SSP, said a mild lathi charge at Maiser Khana village yesterday was resorted to disperse the BKU (E) activists and was justified in the larger interests of the public.
Parents' plea to nab son's killers
Phagwara, July 25
Mr Jagdish Lal Nanda and Mrs Santosh Kumari Nanda, the parents of Deepak Kumar Nanda, today wrote to Prime Minister Atal Behari Vajpayee, External Affairs Minister Jaswant Singh, Home Minister L.K. Advani and Punjab Chief Minister Parkash Singh Badal, seeking their intervention and help in tracing the killers of their son who was allegedly murdered in Italy a few days ago.




Roads dotted with potholes
Bathinda, July 25
This town is fast emerging as an industrial and educational centre but roads and other infrastructure are not keeping pace with the development. Most of the roads are dotted with potholes due to which the movement of traffic has become unsafe.

The potholed Goniana road reflects the condition of roads in Bathinda. — Tribune photo Kulbir Beera

Come rain, phones go dead
Bathinda, July 25
Residents here have been facing problems regarding their telephones, especially during rainy season. Office-goers, businessmen are the worst-hit. Residents allege that the complaints in this connection to the authorities concerned are generally not entertained. And if the subscriber shows some patience and keeps on trying he gets the reply that his complaint has been received and will be dealt in turn.
Services at Civil Hospital inadequate
Bathinda, July 25
The local Vigilant Citizens Forum took up the matter of lacunas in services at the Civil Hospital here with the Deputy Medical Commissioner, Dr Gurjant Singh Sekhon. The forum said in a press note issued here today that though some of the services of the hospital had been improved, yet much remained to be done.
Steps to check diarrhoea
Barnala, July 25
Sensing the gravity of situation pertaining to the diarrhoea menace in Bhadaur town, about 25 km from here, and some of its surrounding villages, the Health Department and the Barnala administration have initiated remedial measures to prevent the outbreak of diarrhoea at a large scale in the region.
Announce MSP for paddy : CM
Chandigarh, July 25
The Punjab Chief Minister, Mr Parkash Singh Badal, has urged the Union Minister, Mr Shanta Kumar, to consult the paddy-producing states before finalising the specifications relating to the procurement of the commodity.


Committee on urban projects set up
Chandigarh, July 25
The Punjab Chief Minister, Mr Parkash Singh Badal, today set up a high-level committee under the chairmanship of the Local Bodies Minister, Mr Balramji Dass Tandon, to prepare an action plan for giving a big push to the ongoing urban development projects in various parts of the state and prepare new area-specific projects.


JE held for demanding bribe
Jalandhar, July 25
The Vigilance Bureau today arrested an employee of the Punjab State Electricity Board for demanding a bribe of Rs 1,000 from a consumer.
Man alleges sodomy
Fazilka, July 25
Mr Gurdev Singh (36) of Baghewala village, about 10 km from here, in statement before the police here today, alleged that three youths of the village sodomised him. According to the statement, when he was returning his home on last Tuesday, the three youths standing near a dharamshala allegedly dragged him into it and sodomised him.
Agriculture officer held for graft
Barnala, July 25
A six-member Vigilance Department team, headed by Mr R.S. Dhillon, DSP, Vigilance Sangrur conducted a raid on the Agriculture Department Office in the local Pharwari bazar and arrested Dr Gurtej Singh Madahar, Soil Testing-cum-Block Agriculture Officer, Barnala, under the Prevention of Corruption Act. Another colleague, Dr Surjit Bawa, Agriculture Development Officer, however outsmarted the Vigilance team and escaped from the office complex.