THE TRIBUNE MAGAZINES
On Mondays

On Sundays
On Saturdays
Pakistan to free 31 Indian prisoners
Islamabad, July 26
Pakistan today announced its decision to release 31 Indian prisoners held in its jails for illegally entering its north-west frontier Baluchistan province.
Indo-Pak Foreign Secys may meet
Islamabad, July 26
Pakistan today said there was a good possibility of Foreign Secretaries of India and Pakistan to meet during the SAARC's Standing Committee meeting beginning in Colombo on August 10.
IN PASSING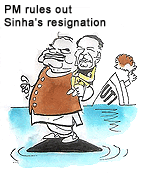 by Sandeep Joshi
Vajpayee objects to Musharraf's remarks
New Delhi, July 26
Prime Minister Atal Behari Vajpayee today took exception to Pakistani President Pervez Musharraf's statements about a split in the Indian Government during the Agra summit and said such a propoganda could hamper the future Indo-Pak talks.
Edit age: How not to handle a summit
When non-communication becomes a liability
By Hari Jaisingh
NOTWITHSTANDING the statement by Prime Minister Atal Behari Vajpayee in Parliament on Tuesday, a number of questions continue to agitate the public on the management of the Agra summit and the large contingent of newsmen from the print media and electronic channels.

4 hurt in rocket attack
Jammu, July 26
Unidentified militants fired a rocket last night in Rajouri in which at least four civilians, including two minor girls, were injured. The injured were out of danger.
Martyrs' kin feel let down
Kangra, July 26
Himachal made several promises to the kin of Kargil martyrs, but most have not been implemented even after two years of Vijay Operation, said Sub Rulia Ram, father of the Maj Sudhir Walia, who was awarded the Ashok Chakra posthumously.
Phoolan Devi shot dead in Delhi
July 26, 2001
J&K killings are not jehad: PM
July 25, 2001
47 feared dead as truck falls into canal
July 24, 2001
16 massacred in Kishtwar
July 23, 2001
6 pilgrims among 13 killed in 2 blasts
July 22, 2001
Kashmir blocked peace: Pervez
July 21, 2001
Structured agenda in future must, says Opposition
July 20, 2001
Forget Agra, India tells Pakistan
July 19, 2001
Agra another step towards peace: India
July 18, 2001