Ex-Air Vice-Marshal, 7 others held
Documents regarding defence purchases seized
New Delhi, July 27
The CBI has arrested eight persons, including a former Air Vice-Marshal for allegedly ferreting out secret information from Air Headquarters here relating to defence purchases.
Centre bows to pressure
Ceasefire restricted only to Nagaland
New Delhi, July 27
Bowing to the pressure of Manipur and other North-Eastern states, the Centre tonight decided to restrict the ceasefire with the Nationalist Socialist Council of Nagaland (I-M) to Nagaland and not extend it to other North-Eastern states.
In Sports Tribune today
THE TRIBUNE MAGAZINES
On Mondays

On Sundays
On Saturdays
Court for white paper on UTI scam
Mumbai, July 27
Rejecting the second bail plea of former UTI chief P.S. Subramanyam and three others in the multi-crore UTI scam, a special court today directed the CBI to come out with a 'white paper' to ensure that all aspects and ramifications of the alleged fraudulent investment by the accused in the Lucknow-based Cyberspace Limited, were covered.
IN PASSING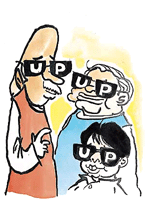 Doctor says that we are suffering from "My UPia" !
by Sandeep Joshi
Life term for Punjab ex-Jail Minister
Faridkot, July 27
Mr A.N. Jindal, Sessions Judge,today sentenced former Jail Minister of Punjab Upinder Singh to life imprisonment in a case relating to the murder of BJP leader Raj Kumar Garg in 1992.
BJP chief resents PMK's return
Wants norms for admission into NDA
New Delhi, July 27
The BJP president, Mr K. Janakrishnamurthi, today took strong exception to NDA partners walking in and out of the alliance at their sweet will and asked for formulation of certain norms for entry or re-entry into the ruling combine.
CISF to handle airport security
Thrust on anti-hijack steps at Rajasansi
Rajasansi (Amritsar), July 27
Laying the foundation stone for upgradation and expansion of the Amritsar International Airport here today, Minister of Civil Aviation and Tourism Sharad Yadav said apart from deployment of the Central Industrial Security Force, the government would take all anti-hijacking measures.

Minister of Civil Aviation Sharad Yadav at the stone-laying ceremony for the upgradation of the Rajasansi airport in Amritsar on Friday.
— Photo Rajiv Sharma
Key man in Phoolan killing missing
July 27, 2001
Phoolan Devi shot dead in Delhi
July 26, 2001
J&K killings are not jehad: PM
July 25, 2001
47 feared dead as truck falls into canal
July 24, 2001
16 massacred in Kishtwar
July 23, 2001
6 pilgrims among 13 killed in 2 blasts
July 22, 2001
Kashmir blocked peace: Pervez
July 21, 2001
Structured agenda in future must, says Opposition
July 20, 2001
Forget Agra, India tells Pakistan
July 19, 2001
Agra another step towards peace: India
July 18, 2001