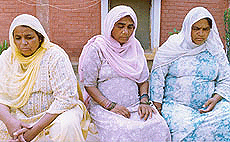 Three women, who had been tattooed "jebkatris" a few years ago for theft, were caught again while committing a similar crime at a marriage palace at Bathinda on Friday. — Tribune photo Kubir Beera


'Jebkatris' caught again
Bathinda, July 28
"Old habits die hard". This holds true in the case of Nirmala on whose forehead "jebkatri" was tattooed during the chief ministership of late Beant Singh. She was again caught red-handed while committing a similar crime along with her accomplices at a local marriage palace yesterday.
Rajkumari Mahip Inder cremated
Faridkot, July 28
The last remains of Mahip Inder Kaur, youngest daughter of the late Maharaja Harinder Singh of Faridkot, were consigned to flames at Sahi Samadhan here today.
CM defends sangat darshan programmes
Bathinda, July 28
Mr Parkash Singh Badal said today that it was unfortunate that the Congress had filed a petition in the Punjab and Haryana High Court against the holding of sangat darshan programmes in the state.
Assembly poll: parties at it again
Bathinda, July 28
Even as the assembly elections are due after about five months in Punjab, leaders of various political parties have started wooing people by adoping various methods. In the recent past two "jagrans" have been organised in the city. One of the "jagran", organisers Mr Sewak Ram Bhola, is an active Congress worker while another organiser Gurdas is a close associate of a Cabinet minister.
Kangar refutes charge of anti-party work
Bathinda, July 28
Mr Gurpreet Singh Kangar, senior Akali leader and director, Faridkot-Bathinda Rural Bank, today alleged that the Punjab Power Minister, Mr Sikander Singh Malooka, had been indulging in anti-party activities.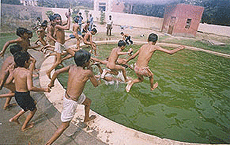 A group of children dive into a swimming pool at Nehru Children's Park in Bathinda on Saturday. — Tribune photo Kulbir Beera
57 died in Kiratpur Sahib truck mishap
Ropar, July 28
Official sources have now confirmed the death of 57 persons in the Kiratpur Sahib truck mishap. The sources said Sangrur district authorities have faxed a list of 17 more missing persons from the area who are believed to have died in the mishap. They also sent the list of 39 victims who have already been cremated.
Main line trains allowed to run at 110 kmph
Phillaur, July 28
Divisonal Railway Manager J.S. Marwaha has expressed satisfaction at the safety measures in Firozepur railway Division and claimed that trains were permitted to run at the maximum speed of 110 km per hour on main lines.
Morcha flays import policy
Patiala, July 28
The removal of quantitative restrictions on the import of 1429 agricultural and industrial items produced in India has posed a serious threat to the economy of the country.
Garg admits to rise in unemployment
Bathinda, July 28
Mr Chiranji Lal Garg, Minister for Science and Technology, Punjab, admitted that the number of unemployed youths, even those of technically qualified ones, was rising in the state. Due to downsizing in various government departments they were finding it difficult to get government jobs, the minister added.
Workshop to check declining sex ratio
Chandigarh, July 28
Keeping in mind the declining sex ratio, the Voluntary Health Association of Punjab has organised a three-day regional-level workshop for NGOs on "Evolving intervention strategy for checkmating the declining sex ratio" which started at the Common-wealth Youth Programme Campus, here yesterday.
Musical snag irks phone subscribers
Virk (Jalandhar), July 28
Telephone subscribers of nearly 12 villages, including Virkan, Gahaur and Chachoki, have complained that whenever they pick up their phones, they are attuned to music and other programmes relayed through the main transmission tower of All India Radio (AIR) in place of the dial tone and so are the persons on the other side of the line. They have alleged that the officials of the Telecom Department have not been able to rectify this snag for years together.
Tributes paid to Sukhjinder
Sunam, July 28
Thousands of persons, including leaders of the Congress, SHSAD, SAD, SAD (A) and Lok Bhalai Party, today paid rich tributes to Mr Sukhjinder Singh, acting president of the SAD (A), at his native village, Kalia, about 40 km from here. Mr Sukhjinder Singh died on July 19 at a hospital in Ludhiana after a prolonged illness.
58 loan cases settled in Lok Adalat
Bathinda, July 28
The State Bank of Patiala organised a special Lok-Adalat at the local Civil Courts Complex today. It was presided over by Mr B.C. Rajput, District and Sessions Judge-cum-Chairman of the District Legal Services Authority.
Laxmi Kanta writes to CM on probe orders
Amritsar, July 28
The BJP MLA, Ms Laxmi Kanta Chawla, today reminded the Chief Minister, Mr Parkash Singh Badal, of orders issued by him on a number of occasions. Ms Chawla, in a letter to the Chief Minister which was released to the press here today, said Mr Badal had directed senior police officers to probe various cases in which some persons were killed or kidnapped during the past one year.
Ex-Jail Minister hospitalised
Faridkot, July 28
Former Jail Minister of Punjab Upinder Sharma was today shifted from Ferozepore Central Jail to the local Guru Gobind Singh Medical College and Hospital on medical grounds.
Two labourers buried alive
Malerkotla, July 28
Two labourers, engaged in the digging of tubewells in two separate villages were buried alive and a women died due to snake biting yesterday evening.
1 killed, 2 hurt in accident
Sunam, July 28
One person was killed and other two were seriously injured when their car (PB-44A/5580) in which they were going to Jakhal collided with a tractor-trailer (PB-13/8779) on the Jakhal road here today.
Doctors to attend seminar on Aug 5
Sangrur, July 28
A state-level convention on "Peace, Health and Development" will be organised on August 5 here by the Association of Indian Doctors for Peace and Development in Collaboration with the local unit of the Indian Medical Association.
Pingalwara workers' fast continues
Amritsar, July 28
The fast by Pingalwara Union members who were earlier sacked, has entered its 12th day here today. The workers have been observing fast in protest against the non-fulfilment of their demands by the All India Pingalwara Society and the district administration.
CPI flays PSEB for power cuts
Bathinda, July 28
The city unit of the Communist Party of India today criticised the PSEB authorities for being unable to provide uninterrupted power supply to residents of the city, despite the district having two thermal plants. Mr J.S. Ghai, secretary of the party, said in a press note here today that the power cuts were unscheduled, unannounced and lengthy.


Row over grant of contract
Fazilka, July 28
Row over the grant of contract for the maintenance of street lights led to pandemonium in municipal council meeting here yesterday, following which factionalism in the BJP-ruled council came to fore.
Only plans, no action
SAS Nagar, July 28
The Ropar police has been making announcements regarding the introduction of new schemes here to improve police effectiveness and have better relations with the public, but so far nothing seems to have happened on the ground.
Taneja elected MC senior vice-president
Tarn Taran, July 28
Mr Avtar Singh Taneja, an independent candidate, was elected senior vice-president of the local municipal council while Ms Balwinder Kaur Randhawa retained the post of vice-president, the election for which was held here today.


Sub-Inspector arrested
Sangrur, July 28
The Bhawanigarh police yesterday arrested Gurmukh Singh, Sub-Inspector, posted at the same police station, for allegedly committing negligence, while on duty by giving a chance to an accused in a rape case to escape from the custody.
Father, 2 brothers murdered
Muktsar, July 28
Nachhatar Singh and his two sons Gurlal Singh and Balraj Singh were murdered by his third son Sukhraj Singh in Duhowala village of this district on the evening of July 26, according to a delayed report.
2 held for selling medicines
Bathinda, July 28
The district police today arrested two culprits for allegedly selling medicines. In a press note issued here today the district police chief, Dr Jatinder Kumar Jain, said Baljit Singh and Deepak Kumar were selling medicines to the people from the residence of Baljit Singh.


ETT teachers hold dharna on rail track
Bathinda, July 28
Unemployed ETT teachers today held a dharna on the rail track on the outskirts of Gidderbaha city on the Bathinda-Sriganganagar rail section in protest against the non-acceptance of their demands.